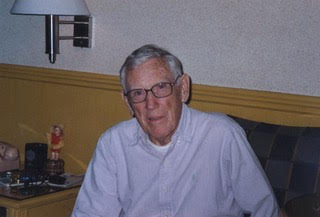 Daniel M. Esterly
October 8, 1924 — May 11, 2019
It is with great sadness that the family of Daniel M. Esterly announce his passing on May 11, 2019 at the age of 94. Dan was born on Oct. 8, 1924 to James and Alice Esterly of Seattle.
Dan grew up in Seattle and soon after high school graduation was drafted into the United States Navy in 1943. Trained as a radio man, he was stationed in the Pacific, where his love of the Philippines stayed with him his entire life. He returned home and enrolled in the University of Washington, later graduating in 1954 with a Doctor of Dental Surgery Degree (DDS). After graduation, Whidbey Island became Dan's sanctuary.
After 36 years of dentistry, Dan focused his retirement on World War II history, traveling and University of Washington Athletics. He never lost his love of the Philippines, traveling there as often as possible.
Dan will be sadly missed by his wife of 30 years, Zenaida; his stepson, Lennox; daughter, Jill; son-in-law, Steve; brother, Jerry; four grandchildren and five great-grandchildren.
A great many thanks to WhidbeyHealth Hospice for the care they provided Dan and family. "We could not have done this without you."
The Esterly family would like memorials in Dan's name made out to Seattle Children's Hospital. Giving can be done online at: https://www.seattlechildrens.org/giving/; by phone at 260-987-2153 or toll free 800-635-1432; or by post to Seattle Children's Hospital and Research Foundation M/S S-200, P.O. Box 5371 Seattle, WA 98145-5005
Arrangements entrusted to Wallin Funeral Home, Oak Harbor, Wash.