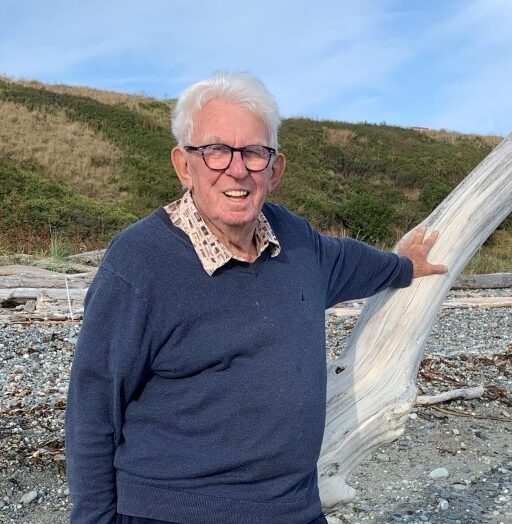 David Geoffrey Eccles
January 16, 1940 — September 10, 2021
David Eccles, 81, beloved husband, father and grandfather, passed away peacefully at his home near Coupeville. Wash., Friday Sept. 10, 2021. He is survived by Lynda, his wife of 54 years; his son, James Eccles and his wife Rhanell; his daughter, Joanne LeBlanc (née Eccles); six grandchildren, Ronan, Finn and Trulie LeBlanc, and Cameryn, Cadence and Charlotte Eccles; as well as nieces and nephews in the United Kingdom, Spain and the United States. He was preceded in death by his parents in 1983 and his brother, Colin Eccles, in August 2021.
Born in Woolwich in County Kent, England, David and his family moved to a tiny village in North Devon during World War II when his father was put in charge of an ammunitions factory in a nearby town. In 1946, they retuned to Kent. After public school, David attended Kings College London, where he earned a degree in dental technology. During his college years, he played saxophone in a jazz band and performed in amateur theatre. David loved many kinds of music, from jazz to big band, and from Eric Clapton to Abba and, of course, the Beatles.
In 1962, he joined the Royal Army Dental Corps and served in the both the UK and Far East. While in the army, he indulged his life-long love of airplanes by taking parachute training and flying lessons. In later years, he spent many weekends at air shows.
After the military, David worked at a dental research and development company in London, where he met his wife, Lynda. Following their marriage, they moved to Poole in Dorset where they purchased a dental laboratory and raised their daughter and son. They spent many happy times camping throughout Devon and Cornwall and Europe.
In 1976, David and Lynda visited the U.S. and being curious, wanted to visit an American dental laboratory and was offered a position with a U.S. Dental Group. In 1977, they moved to Richland, Wash. While in Richland, he again enjoyed amateur theatre and played Colonel Pickering in a production of "My Fair Lady." In the mid-1980s, the Eccles moved to Escondido, Calif., where they purchased another dental laboratory. Then in 2008, David and Lynda retired to Whidbey Island. From their time in Richland, both had come to love the Pacific Northwest and spent many happy holidays at Cannon Beach in Oregon, the San Juans and Whidbey. Coupeville became their forever home.
While living in Escondido, he took up golf, and his passion for it continued on Whidbey, where he often played twice a week with his golf buddies at Lam's and other golf courses on the island. David was an active volunteer wherever they lived, always giving back to the community. In Coupeville, he volunteered at the visitor information center and always supported his wife, Lynda, who serves as director of the Coupeville Chamber of Commerce, at chamber events. He also continued his love of amateur theatre by performing for several years with a local group that produced old time radio shows live on stage.
He was a proud Master Mason for 52 years in England, California, Richland and Whidbey Lodge #15 in Coupeville.
David's family suggests that in his memory gifts be sent to the David Eccles Memorial Scholarship Fund for Coupeville students intending to make a career in medicine or dentistry. The fund is maintained by the Community Foundation for Coupeville Public Schools with information available at www.4coupevilleschools.org
"David, You will never be forgotten – you will remain in our hearts and minds always" – Your loving wife Lynda and family