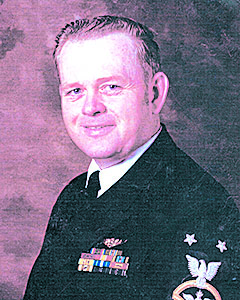 David Peter Michel
June 1, 1938 — July 12, 2019
David Peter Michel, loving husband, father and grandfather passed away peacefully Friday, July 12, 2019 in Mount Vernon, Wash., with his wife, Dorothy, by his side. David P. Michel was born in Natick, Mass., June 1, 1938. He grew up in Norwood, Mass., and graduated from Norwood High School in 1957. David and four siblings grew up in the foster care system, but he found his family when he joined the Navy. He entered active duty in1957 and attended boot camp at NTC Great Lakes. He completed his auspicious career 30 years later, retiring as a command master chief at NAS Whidbey Island, his final duty station. In 1961, David met his first wife, Helen, a mother of four children: Larry, Susan, Belle, and Diana. They married in 1962. David became an instant father and always accepted everyone as family and never treated anyone differently. Shortly after marrying Helen, he had orders to Florida. In Jacksonville, in 1962, David was born. Dave then received orders to go to San Diego, Calif.. In Chula Vista, Calif., in 1964, Peter was born. Dave got orders back to Whidbey Island. After arriving in Oak Harbor, Wash., in 1965, Teresa was born.
Helen passed away in 1990. After the loss of Helen, David went to Skagit Valley College and received his Associates Degree in Human Services. He then worked for Service Alternatives and eventually ended up volunteering for Disabled American Veterans. It was there that David, ever the flirt, met Dorothy. Dave and Dottie got married in Idaho, in 2001. Dottie brought into the family two more children, Jennifer and Christopher, and eight more grandchildren. Dave and Dottie RV'd across the country three times, belonged to several RV groups, and RV'd until they couldn't do it anymore. David and Dottie moved from Oak Harbor to a retirement community in Mount Vernon in 2017.
Throughout his Navy career, he rose in rank and responsibility. He was an aircrewman for P2V-75 aircraft (combat), magazine leading petty officer, ammunition quality assurance chief, armament branch CPO, nuclear weapons coordinator, nuclear and conventional weapons loading and delivery instructor, nuclear safety officer and command master chief petty officer. Throughout and after his career, Dave remained committed to his family of aviation ordnance men and women and helped establish Chapter Three at Whidbey Island. Dave continued to contribute to the success, professionalism, and reputation of the AO community through his continued high level of commitment to the national and chapter levels. This led to his induction in the Aviation Ordnance Hall of Fame in 2013.
David P. Michel is survived by his wife, Dottie Michel; children, Larry Boyle (Patty); Belle Canaday (Pat); Diana Kinney; Pete Michel (Stacey); Teresa Besaw (Jim); Jennifer Phillips (Dennis); and Christopher Anthony (Jenne). He is also survived by numerous grandchildren, great-grandchildren and great-great-grandchildren. David was preceded in death by his wife, Helen Michel; daughter, Susan Anderson; son, David Michel; and his brothers, Philip Michel, Don Michel and Bob Michel; and his sister, Patricia "Patsy" Ham.
A funeral service for David will be held at Wallin Funeral Home in Oak Harbor at 11 a.m. Saturday, Aug. 3, 2019. A graveside service with Military Honors will follow and then a reception at 2 p.m. at the CPO Club. In lieu of flowers, please make donations to St. Jude Children's Research Hospital.