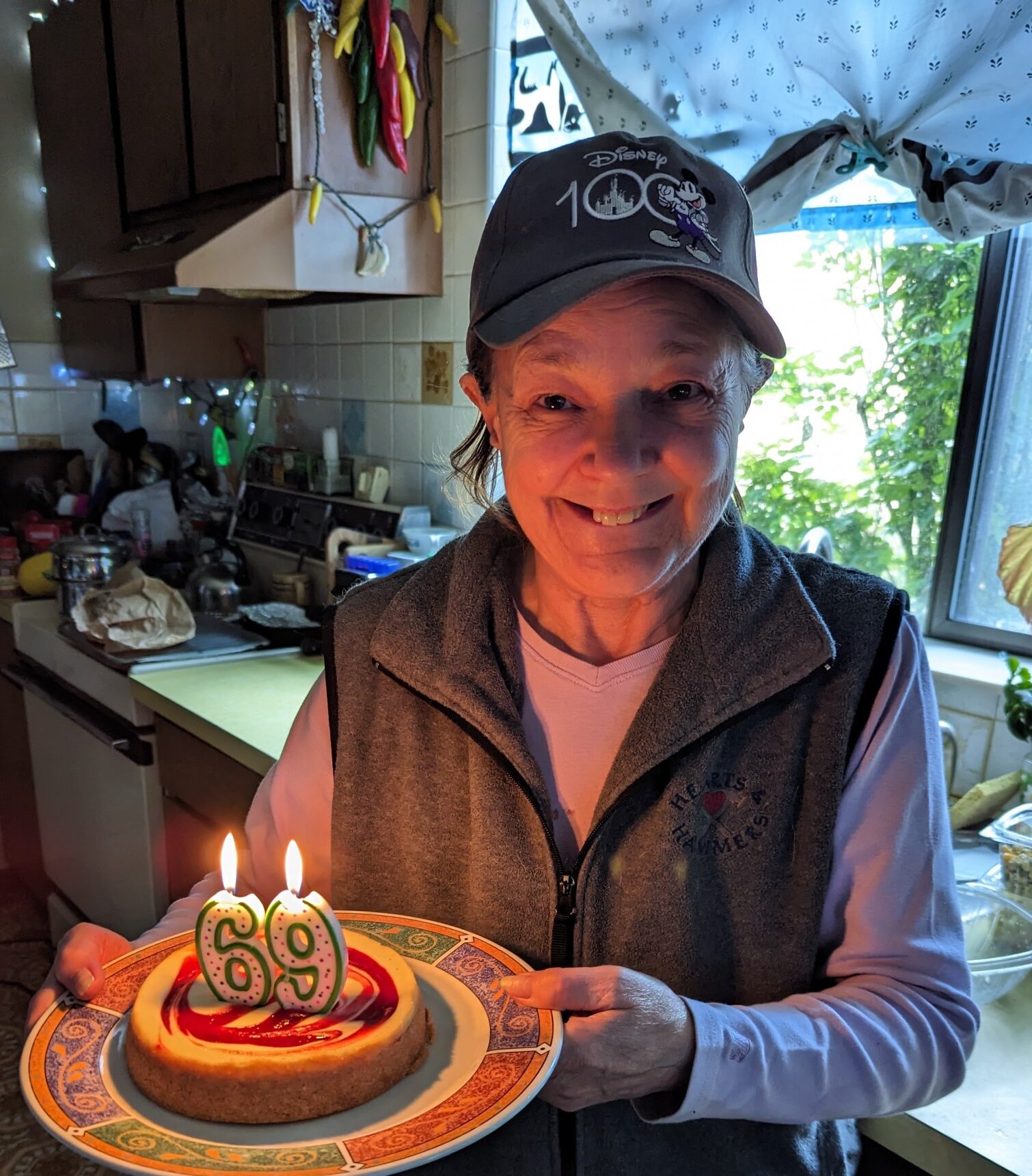 Debbie Jean Sherod
April 26, 1954 — May 9, 2023
Debbie Jean Sherod was born in Seattle, Wash., April 26, 1954, to William "Bill" Sherod and Velma McGahen. Debbie grew up in Magnolia and graduated from Queen Anne High School in 1972. She attended beauty school, and received two associate degrees in horticulture from Edmonds Community College. For the rest of her life, Debbie pursued her dual passions of landscaping and hair-scaping. She worked for the Seattle Parks Department for several years as part of the maintenance crew at many of her favorite parks, including Green Lake, Volunteer Park, Carkeek Park, and others. She loved memorizing the Latin names of many local plants and would always recite the true name of any plant she saw. Her favorite place to be was always in a garden.
In 1983, Debbie moved to Whidbey Island with her son, Shane, where she gave birth to her daughter, Sasha, with former husband Michael Clyburn. She never wanted to live anywhere else. After cutting hair at several salons, she eventually opened her own business, Hare Today. Additionally, Debbie found work in landscaping and gardening, while volunteering for many years as a Master Gardener at the Island County Fair and other events.
Deb's Hare Today was a fixture on South Whidbey for many years – both at its original location in Freeland and again in Clinton, until Deb retired at the end of 2019. The salon was known for her extensive collection of hare-themed collectibles and stuffed animals, and for Debbie's boundless energy and enthusiasm for her craft. Some of her clients stayed loyal to her for many years. A few even followed her home to the salon she built at the family farm in Greenbank.
The thing Debbie loved most about living on Whidbey was the music. If there was live music happening on the south end, you could bet on seeing Debbie Sherod there grooving on the dance floor. She was a devoted fan to many local musicians and prided herself on building friendships with many of them over the years.
Debbie passed away at home on the Wood Farm May 9, 2023, a few weeks after celebrating her "dirty" 69th birthday. She loved off-color humor and would definitely appreciate the joke. She's probably snickering right now. Debbie Jean Sherod is survived by her children, Shane and Sasha, her loving dog, Frieda, and cats Pumpkin Pie and Tux.
A memorial service celebrating Debbie's life will be held at Bayview Hall Sunday, June 4 at 2 p.m. We hope you will join us. If anyone has pictures, videos, or stories of Deb you'd like to share, please send them to sherodland@gmail.com. In lieu of flowers, please consider making a donation to her memorial fund to help pay for funeral costs after this unexpected tragedy, and to help her family build a memorial to her on the family farm in Greenbank, where we will spread her ashes. Donations can be made at: https://giveahand.com/__XADQ.