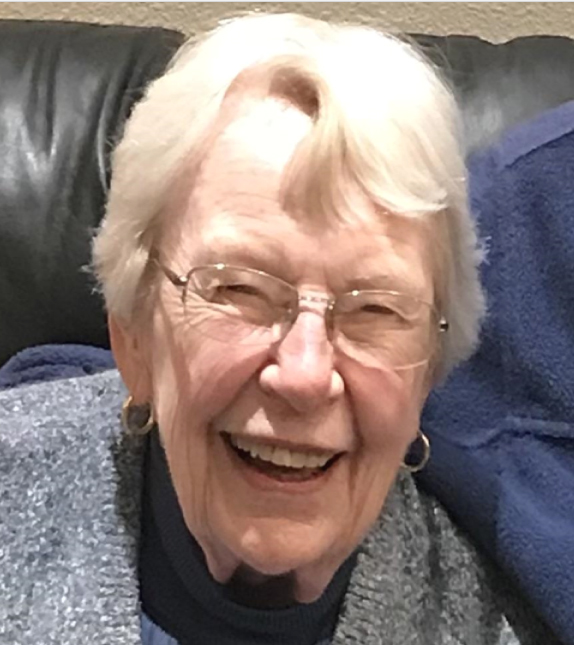 Delores Estella Randall
February 6, 1934 — February 11, 2022
Delores passed away at her home in Oak Harbor Feb. 11, 2022, just a few days following her 88th birthday.
Delores was the oldest of three sisters born Feb. 6, 1934, in Helena, Mont., to Stella and Jiggs Hamlin. She grew up in Helena at the top of Rodney Street. After graduating from Helena High School, she moved to Chicago and attended Little Company of Mary Hospital School of Nursing.
Delores graduated in 1955 and would spend her career in health care as a nurse and instructor. While in Chicago, her cousin, who was in the Navy, introduced her to his friend, Les Randall, who served with him on the USS Oriskany. On Jan. 28, 1956, Delores and Les married at The Cathedral of St. Helena in Helena. It was a beautiful, snowy, and minus-16 degree day day that would start their wonderful 64 years together.
For the first 12 years of marriage, Delores and Les lived in Mountain View, Calif. There they had a family: Teresa, John, and Connie. Delores worked as a nurse until they moved to Willow Grove, Pa., for the U.S. Navy. After a couple of years in Willow Grove, it was back across the country to Oak Harbor, Wash., and NAS Whidbey Island. Oak Harbor would become their home and oasis for the next 52 years. They raised their family and lived their lives overlooking the water off Delta Court from their wonderful, quiet cul-de-sac.
Her neighbors were the best anyone could ever imagine; after 52 years, she and her friend, Dot Newberry, were the "ranking" residents of the neighborhood and so loved by all. Over the years, she saw many neighbors move in and out, but the deer seemed to always stay and hang around her garden. She loved her home and enjoyed neighborhood walks and the annual cul-de-sac party. Her neighbors on both sides have been the most caring folks. Marylin and Tim, and Lexi and Danny checked in on her and made sure she was always safe and happy. Our family is so thankful for their open hearts and Delores was, too. She always felt so loved.
She was passionate about her garden, spending many days taking care of it and watching the birds and squirrels. It brought her joy. She was a member of the Oak Harbor Garden Club and enjoyed the many gardening tips. Delores went on to teach, sharing her knowledge of nursing with the students at Oak Harbor High School and Skagit Valley College (Oak Harbor) for over 25 years. She influenced many young students to choose a career in health care. She was active with the League of Women Voters and very much enjoyed her time with the ladies in the Red Hat Society. She also spent her time helping others through serving on the Oak Harbor Help House Board for many years. She got to share her passion for the outdoors and spend time at Ebby's Landing helping visitors enjoy their visit to beautiful Whidbey Island. Delores was raised Catholic and practiced her faith at both the Whidbey Navy Base Chapel and St. Augustine.
After retirement, Delores and Les traveled all over the country and to Canada. They attended reunions for Little Company of Mary and the USS Oriskany, along with visits to family and friends all over and always with their favorite dog, Poppy. Spending time with her seven grandchildren meant many miles on the road and they always made the journey. Delores spent a lot of time on the road in their van, stopping at little cafes for lunch that no one knew about, and they loved every minute of it.
Delores's life was full, she will be missed by many. Her times with family, friends and pets over the years were her favorite. She was a kind, gentle and smart woman. Thank you for being a daughter, sister, mom, grandma, great-grandma and friend, unconditionally loving us all. We love you, deeply. Rest in peace.
Delores is survived by her three children: Teresa Montoya (Gene), Riverside, Wash.; John Randall (Tina), Battle Ground, Wash.; Connie Purchase (Tom), Gig Harbor, Wash.; seven grandchildren, Rachel Wright, Jennifer Mitchell, Ian Montoya, Katie Davis, Chase and Courtney Randall, Vince Purchase; and seven great-grandchildren, Kyleigh, Brooke, Trent, Chad, Stella, Cadin and Emmett; and two sisters, Gracie Cooper (Coop), Pasco, Wash., and MaryAnn Safford (Tom), Helena, Mont.; and brother-in-law, Peter Randall.
She will rest with her loving husband at Tahoma National Cemetery. Services at the cemetery will be held Friday, March 25 at 10:30 a.m. and a celebration of Delores' and Les's life will be held at 11 a.m. Saturday, March 26 at Wallin-Stucky Funeral home in Oak Harbor.
Funeral and future service details can be found on Wallin-Stucky Funeral Home's website. Please share your memories, stories, photos, and condolences of Delores on her Memory Wall there (www.wallinfuneralhome.com). Thank you.