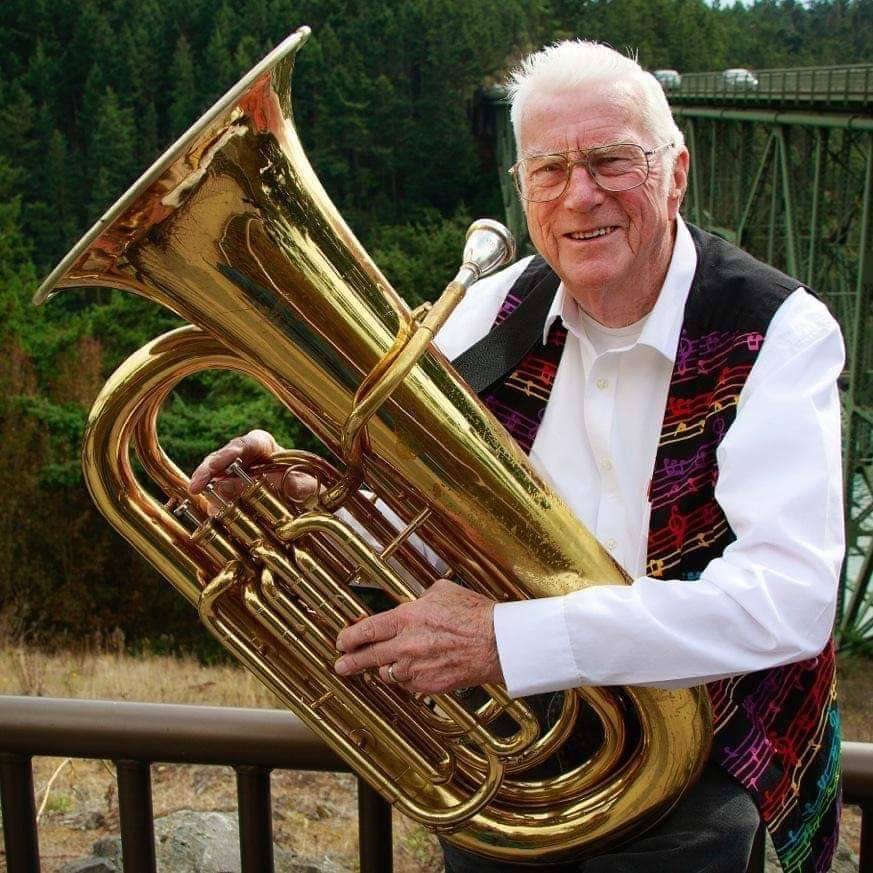 Denman "Denny" Moody
October 24, 1932 — February 21, 2020
Denny Moody, born Oct. 24, 1932, passed away in Coupeville, Wash., on Friday, Feb. 21, 2020. His loving spouse, Nancy, was by his side. He was 87.
Denny was born in Sedro-Woolley, Wash., to Floyd and Waneta (Leadbetter) Moody. He was the fifth of six children. During first through fourth grade, Denny attended a three-room schoolhouse in Utopia, Wash. The school eventually was flooded, and Utopia is now a conservation area. Due to the closure of the schoolhouse, Denny relocated to Sedro-Woolley school district in fifth grade. It was in grade seven he was paired up with the tuba. His family was unable to purchase an instrument new and the tuba was the only instrument left unchosen. So, he took it home. "Teddy Bear's Picnic" was the first song he learned to play in band.
Graduating high school in 1950, Western Washington University offered him a musical scholarship. Around this time Nancy came into his life one day at the J.C. Penney Company, where he was working as a clerk. She was trying to cash a check and Denny saw an opportunity to get her address and phone number. They went on a double date with some friends and he knew then he would marry her.
In 1951, Denny enlisted into the United States Air Force and was stationed in Arizona at Williams Air Force base. Three children followed: Alex, Andy, and Alan. The Moody family picked up and moved to Oak Harbor, Wash., after Denny was honorably discharged. His father worked on NAS Whidbey, and it was here the Moody's raised their children while Denny was employed in the Federal Civil Service as Labor Supervisor.
Alex, Andy and Alan were in the Boy Scouts and Oak Harbor Little League and so Denny became involved as well, helping within the Scouts organization and as an umpire. He was past president of the American Federation of Government Employees and the Parent-Teacher Association.
After the boys moved out and Denny retired, music and the tuba almost dominated his every moment. He played with the Skagit Valley Community Band; became a member of the Happy Wanderers, who frequented the Autumn Leaf Festival and the Tree Lighting Festival in Leavenworth, Wash.; He played bass (tuba) in the Hugo Accordion Band out of Mount Vernon, spent 15 years playing with the W.T. Preston Jazz Band on the Sternwheeler in Anacortes; accompanied the Oak Harbor Community Band in the 1980s; gallivanted around Oak Harbor with Jan Ellis, performing in various Holland Happening events and any number of places people would ask them to play around town. He always humbly felt as if he was not a musician, but he believed that "life without music was a mistake" and he had the bumper sticker to prove it.
A number of phrases describe Denny. Examples from those close to him and with whom he taught and performed were a great sense of humor, constantly smiling, a huge heart, full of spirit, a zest for life, very loving, supportive to family, and a helpful personality.
Those surviving Denny are his loving wife, Nancy; sons, Alex (Sandy) Moody and Andy Moody; daughter-in-law, Linda Moody; 14 grandchildren; 18 great-grandchildren; and one sister, Adonna Wright.
Preceding him in death are his parents; son, Alan Moody; grandson, Matt Moody; two brothers, Clyde and Doyle; and two sisters, Yetive Meade and Floye Gundersen.
The Moody family would like to thank all the staff at Whidbey Health Medical Center, and our family and friends. You know who you are!
Memorials in Denny's name can be made out to the Skagit Valley Community Band. Visit their webpage online at http://skagitcommunityband.org/pdfs/scb_donations.pdf for access to their donation form, which can be mailed in the post. Another way to give your support is to use the link http://smile.amazon.com/ch/91-1874499 for shopping at Amazon.When you do this, Amazon donates 0.5 percent of the purchase price to the band.
A Celebration of Denny's life will take place at Wallin Funeral Home in Oak Harbor, Saturday, March 7, 2020 at 11 a.m., with a reception to follow. Please visit Denny's page in our Book of Memories online at www.wallinfuneralhome.com to share memories and leave condolences.
Arrangements entrusted to Wallin Funeral Home, Oak Harbor.