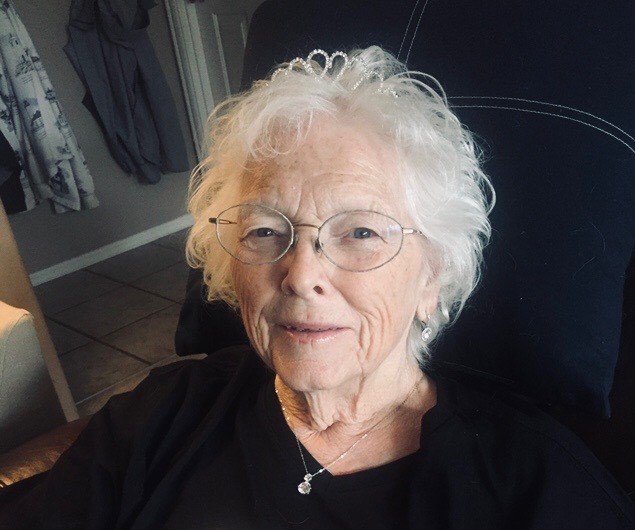 Dolores Engle
December 18, 1938 — February 5, 2021
Dolores Leilani (Harper) Engle of Coupeville passed away in Bothell, Wash., Feb. 5, 2021 surrounded by her family.
Dolores was born Dec. 18, 1938 in Honolulu, Hawaii. As the oldest child of a Navy family, she moved many times in her early life—including Texas, Virginia, Rhode Island, Florida, and California—before moving to Coupeville in 1951. She was part of the high school drill team, as well as many other clubs. She graduated from Coupeville High School in 1956 and moved to help on her parents' farm in Eltopia, Wash., where she also attended business college and worked at the Water District Farm Bureau Office.
Dolores and David Engle were married in Coupeville June 20, 1959. They began married life in Puyallup, Wash. In Puyallup, where Dolores worked for a car dealership and school district, the first of many bookkeeping and office manager jobs throughout her career.
In 1968, Dolores and Dave moved back to Coupeville, where she worked at Dean's Chevrolet, right across from Prairie Center. In 1976, they moved to Anaheim, Calif., where she entered full-time ministry as a pastor's wife and church secretary at Plaza Bible Church. In 1992, they moved back to Coupeville, where they have lived ever since.
Wherever she lived, Dolores was always very involved with the church—teaching Sunday school and Bible study, organizing children's church and church bulletin boards, running the snack distribution at Vacation Bible School, as well as singing in various choirs, including the Billy Graham crusade choirs. Dolores was known for her gentleness and big hugs and her signature greeting, "Good Morning," regardless of the time of day.
She was an accomplished and creative seamstress who was able to create made-to-order wedding, prom, homecoming and other formal dresses. Not only could she sew, she also crocheted intricate patterns into doilies, cross-stitched tapestries, knitted baby blankets and sweaters, and could make any costume requested out of home goods on hand.
Dolores was a voting poll site coordinator/registrar and loved volunteering her time to help secure voting booths. She made family dinners and church potlucks festive with pies, banana and zucchini breads, snickerdoodles, casseroles, and her signature blackberry jam for rolls along with her gigantic, yummy salads.
She loved reading, puzzles, crosswords, and word searches. Dolores was quite mechanically minded and able to fix or build most projects. The kids all knew to ask Mom, not Dad, for help when building all things!
Dolores enjoyed traveling to see family each summer – to take care of new-born grandchildren, see the Holy Lands in Israel, explore the state of Alaska, have tea in London and see the Crown Jewels; and to Disneyland (countless times) with all of her grandkids, where she patiently volunteered to take the youngest (whomever it was at that time) on their favorite ride over and over while the older children raced around.
Retirement was not in her vocabulary as she kept busy making breakfast for the worship team (French toast casserole, anyone?), last-minute alterations for anyone in sewing distress, caring for grandchildren by babysitting or driving them to and from activities, taking lead on Dave's recoveries from various surgeries, maintaining household chores, attending Coupeville and Orange Lutheran high school events, cheering on grandkids at little league games in Bothell, donating/volunteering/supporting at local theater events, and also keeping up with friends from near and far through phone calls, letters, or notes.
Even as dementia progressed, and Alzheimer's took hold, Dolores' delight in being around her family and interacting with her grandchildren created bright and lasting memories in her final days.
Dolores' life was defined by a deep faith in her Lord and Savior, Jesus Christ, and she shared His love with everyone she met.
Dolores was preceded in death by her parents, Jack and Jewel (Johnston) Harper and her brothers, Curtis and Charles.
Dolores is survived by her husband, David Engle; daughters, Sylvia (Engle) Arnold, Shannon (Engle) Arnold, Stephanie (Engle) Penrod and Sarah (Engle) Viers; sons-in-law, Garrett Arnold, Lance Arnold, Isaiah Penrod and Tim Viers; 10 grandchildren, Scott Arnold, Courtney (Arnold) Sleister, Brett Arnold, Luke Arnold, Jacob Arnold, Victoria Penrod, Andrew Penrod, Noelle Viers, Lyal Viers and Reagan Viers; two great-grandchildren, Maddison Arnold and Maximus Sleister (and another baby girl expected in April); sister, Pamela Blevins; and sister-in-law, Charlotte Harper; and numerous nephews and nieces.
A memorial service will be held privately due to pandemic restrictions. In lieu of flowers, the family requests donations be made to the Wounded Warrior Project: woundedwarriorproject.org or The Gideons International: gideons.org.