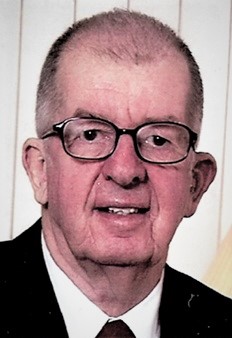 Donald Roy Mulkey
October 5, 1935 — July 14, 2022
Donald Roy Mulkey, age 86, longtime Oak Harbor resident, passed away Thursday, July 14, 2022 at Island Hospital in Anacortes.
Donald Roy Mulkey was born Oct. 5, 1935, in Grand Coulee, Wash., to Wendell Taggart Mulkey and Marjorie Alice (Bessey) Mulkey. His father was an engineer with the Bureau of Reclamation involved in the construction of the Grand Coulee Dam. Don attended Coulee Dam, Hartline and Coulee City schools. The family moved briefly to Othello, and then to Palisades, Idaho, where Don graduated from Ririe High School in May 1953. Following high school graduation, Don attended Idaho State College in Pocatello for three years, later entering the U.S. Navy. His duty stations after boot camp included: Airman Fundamentals School in Norman, Okla.; TDA School in Memphis, Tenn.; HATUPAC and FRETUPAC at NAS Whidbey Island; Navy Station Adak in Alaska; Sub-school in New London, Conn.; TDB School in Memphis; Recruit Tracon in San Diego; Fleet Training Center and Fleet ASW Training Center, also in San Diego. Don retired in San Diego, Calif., in November 1976, after 20 years as a TDC (E-7). He was very proud of his military service to his country.
Don received his FAA Aircraft and Power Plant Mechanics License in May 1956. After his retirement from the military, he was an aircraft simulator technician at NAS Whidbey, a position from which he retired in January 1996. On Aug. 19, 1988, he married Sandra J. Crank.
Don is survived by his beloved wife, Sande, at home in Oak Harbor; two stepdaughters, Ann Michelle Harrison McAllister of San Diego and Jean Marie Harrison Tierney and husband Chris, of Madison, Ala.; sister Susan Jane Mulkey of Boise, Idaho; brother, Bruce Allen Mulkey, wife Joan and family, of Nampa, Idaho; one sister-in-law, Michelle Marie McKenzie-Voigt and family, of Evanston, Ill.
Don was an avid hobbyist, with interests ranging from radios to antique tractors. He worked mostly in metal fabrications and gladly shared his expertise with friends. Camping in Eastern Washington was a favorite pastime for him and his family. Go-cart racing – in fact, auto racing of any kind – was of constant interest.
Private inurnment will take place at Maple Leaf Cemetery. Memorial gifts may be made to the Navy-Marine Corps Relief Society. Family and friends are encouraged to share memories and condolences at www.whidbeymemorial.com.