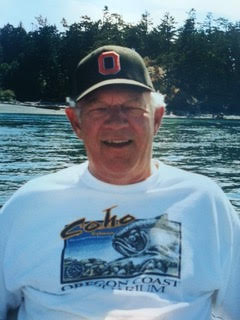 Edward Quist
August 14, 1939 — May 24, 2019
Edward Quist, of Oak Harbor, Wash., lost his battle with Parkinson's disease on May 24, 2019. He passed away peacefully at home with his family and beloved pets by his side. Ed was born on Aug. 14, 1939 in Portland, Ore., to August and Elsa Quist.
Ed joined the Navy where he spent 20 years. After his retirement from the military, he spent the next 20 years as a sales manager for Berg Ford in Oak Harbor.
He was an avid fisherman and loved spending time riding his motorcycle.
He was preceded in death by his sister, Darlene Halverson, and brother, Wally Stage.
He is survived by his wife, Sheryl, daughter Kristen Hannan, son Eric Hannan (Jennifer), and grandchildren Lola Hannan and Jake Hannan.
The family would like to thank Dr. Sanders and the staff of WhidbeyHealth Hospice for all of the wonderful care they provided. In lieu of flowers the family suggests memorials be made to WhidbeyHealth Hospice.
Private services will be held at a later date.
Arrangements entrusted to Wallin Funeral Home, Oak Harbor. Please visit Ed's page in the Book of Memories online at www.wallinfuneralhome.com to leave condolences and share memories.