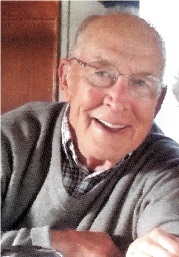 Egbert Jan Boonstra
December 4, 1926 — October 3, 2022
"Ed" passed away Oct. 3, 2022. Ed was born Dec. 4, 1926, in Appelscha, in the province of Friesland, Netherlands to Sikke and Durkje (Ploegstra) Boonstra. Moving around during childhood, Ed spent most his years in the Gaasterland region as the eldest of six children.
After earning the equivalent of a high school diploma, Ed entered the military for two years and then the Rotterdam Mounted Police Force. In 1948, he met Willie, and made their lifetime commitment with marriage in 1952. Choosing opportunities for their future, they, along with many emigrants, sailed to New York Harbor in 1955. Taking the train across the United States, they became residents of Oak Harbor, Wash., where they spent the rest of their lives.
After a short time on the Fakkema farm, Ed became a City of Oak Harbor employee, starting with garbage crew and working his way up to Public Works Superintendent. With motivation and desire to learn, Ed received his U.S. diploma and taught night classes to public works employees using his excellent skills with numbers. Through his 30 years as a city employee, former mayor Al Koetje stated he was one of their most dedicated employees. After 30 years, he retired and spent many years on the city council, time as Mayor Pro-Tem, and also on the Island Transit Board.
Vacationing by trailer started in the early years with their two children, Rick and Karin, and groups of friends and family. Camping trips to Lake Whatcom and Pearrygin Lake included fishing, waterskiing, golf and fun times around the campfire. Retirement years were spent traveling, with many trips to the Netherlands, or as Ed always referred to it, "the old country," visiting family, and including sightseeing to other parts of Europe. He and his wife, Willie, traveled by trailer through the U.S. and enjoyed snow-birding in Arizona during Washington winters.
Ed's life was defined by a strong faith and he was a lifetime member of First Reformed Church, serving in many capacities including elder, for many years. You could also see Ed in the choir benches back row with Har Mouw, many times looking like two kids getting into mischief with their infectious grins!
Ed and Willie both were some of the original members of the annual Holland Happening Festival, where you would annually see Ed in his authentic Dutch costume, carrying wooden buckets filled with tulips.
Many visits to the old country included time around his mother's table with family. Ed and Willie continued that tradition here in the U.S., with coffee time around their kitchen table. The door was always open and Ed always had the coffee pot with cups set up at precisely 9 a.m. for anyone who came. He carried that tradition with him to his apartment at Regency on Whidbey. Like clockwork, when 9 a.m. came, so did friends and family to enjoy coffee with Ed.
Ed and Willie were married for 68 years, sharing many wonderful memories, with Willie passing in February of 2021.
Ed is survived by his daughter, Karin Nelson; Gary (brother) and Jan Boonstra; nieces and nephews, Rick Boonstra, Mike and Susan Boonstra; their children, Taya (Tim) Jaw and Tyler Boonstra; along with Japke Gosselin and family; as well as many relatives in the Netherlands.
Ed and Willie's son, Rick Boonstra, and son-in-law, Ted Nelson, preceded him in death.
The family would like to thank both WhidbeyHealth Palliative Care and Hospice and Regency on Whidbey for caring so kindly for him the last few months of his life.
In lieu of flowers, donations can be made to WhidbeyHealth Hospice or Regency on Whidbey Employee Christmas fund.
A memorial service will be held at First Reformed Church of Oak Harbor Tuesday, Oct. 18 at 2 p.m.