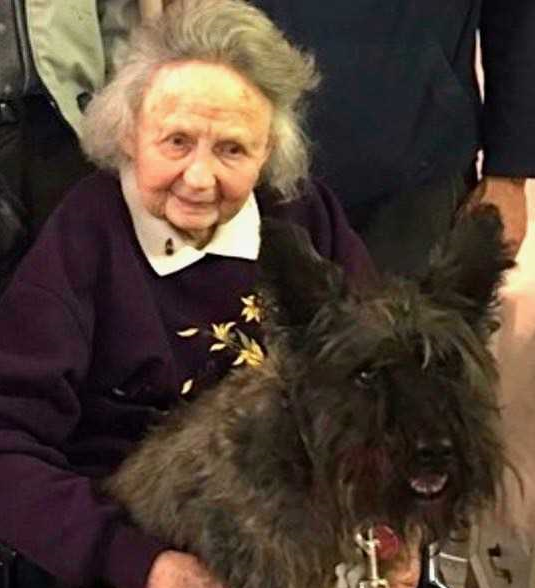 Eileen Margaret Billings
December 25, 1926 — August 2, 2019
Eileen Margaret Billings died Aug. 2, 2019 at Maple Ridge Assisted Living in Freeland, Wash., with her sons, Scott and Craig, at her side. The family is very grateful for the care she received from the staff and the love and support from the other residents there, and WhidbeyHealth Hospice. She was 92.
Eileen was born in Huntington Park, Calif., on Chrisrtmas Day, 1926, daughter of Frederick Cox of Stratford, Ontario and Ruth Payne of Granby, Quebec, who immigrated to the U.S. in the 1920s. Eileen graduated from Huntington Park High and UCLA, where she met the love of her life, David Billings. They were married Aug. 6, 1948, and raised four sons. They were married for over 60 years until Dave died in 2009.
Eileen and Dave started their family in Whittier, Calif., where Dave began his career in the glass container industry. As Dave furthered his career, they moved to Seattle/Bellvue, Wash., Modesto, Calif., and finally settled in Golden, Colo., where they remained for 30 years. Wherever she lived she made a point of meeting all her neighbors, forming lasting friendships with many, and was always ready to help them when needed. As her own health began declining, after she lost Dave, the love and help she received from her friends and neighbors on Whidbey Island was greatly appreciated. Her friends remember her twinkly blue eyes and great sense of humor, even in her roughest times. Eileen was actively involved in the AAUW and PTA, and the Whidbey Pandorans.
Being 'outnumbered by a family of males' as she said, she participated in memorable fishing and camping trips. In Golden, she organized a seniors' bicycle club. After she and Dave resettled in Coupeville, she started the Ping Pong program at the Oak Harbor Senior Center. A local newspaper once named her the 'Queen of Ping' in a feature story. Eileen had a love of animals and once raised an abandoned starling chick and trained it to talk. In 2005, she acquired a miniature schnauzer puppy, who she named Nelson, and who remained her constant companion to the end.
Eileen was predeceased by David and her brother, Brian. She is survived by sons Craig, Bruce (Joyce), Scott, and Keith; granddaughter Hilary (Sam); great-grandson Theodore; and Nelson.
A Celebration of the Life of Eileen is being planned, and will be announced at a later date. Updated information about this event may be obtained from www.whidbeymemorial.com, where family and friends are encouraged to share memories and condolences.