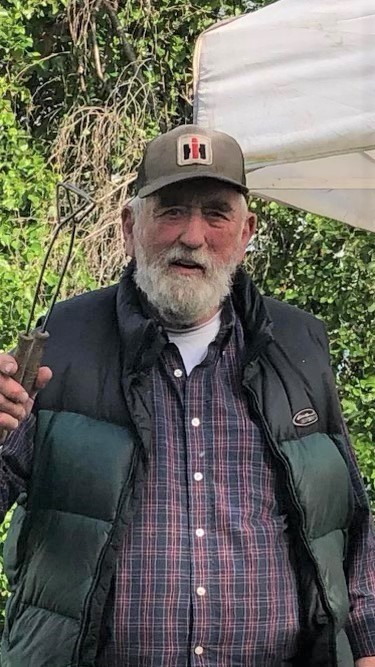 Eldred (Eldy) Howard Nienhuis
November 24, 1941 — April 30, 2023
Eldred (Eldy) Howard Nienhuis passed away at his home April 30, 2023. Born in Anacortes Wash., on Nov. 24, 1941, to Howard and Margaret (Tesch) Nienhuis. Eldy was a lifelong resident of Oak Harbor, living his adult life only a half mile from where he was raised. He helped his family grow cabbage and raise horses and cattle. Eldy was a truck driver and operator for Everett Brothers, working on Whidbey Island and around NAS Whidbey. He also worked as a heavy-duty mechanic for a civil service contractor and Martin's Auto Electric. He went on to become the lead diesel mechanic for Oak Harbor Public Schools, where he worked for 26 years, until his retirement.
Eldy attended Oak Harbor High School, where he was active in sports; lettering in baseball, football, and wrestling, where he took second in the 1960 State Wrestling Tournament in the heavyweight class. In 1964, Eldy married Kathleen Hofkamp. Theirs was the first wedding in the new First Reformed Church building on 3rd Avene. Prior to the birth of their kids, Eldy and Kathy enjoyed gathering with friends for visits, late night card games, and lots of horseback rides, including riding along Ebey's prairie, down the bluff, onto the beach. In high school, Eldy even hand-tooled and made his own saddle that has seen countless hours on the trail.
When his kids were young, he was active in coaching their little league soccer and baseball teams. Later he could be seen, and heard, cheering on the grandkids at their events. Sports, hunting, camping and the love of the outdoors were passions for Eldy that he passed down to his children and grandchildren. Lots of memories were made at annual hunting and fishing trips with friends and family. In later years, he would go to "keep the fire" going for the others. Eldy was known to many as Santa. He played Santa during the Christmas season for the school district, handing out oranges to students. He could also be seen greeting and taking photos with families at WoodBee Christmas Tree Farm with Randolph, the phony baloney pony who thought he was a reindeer. In the mid-1990s, Eldy and Kathy decided to open their own in-home day care, serving countless families in the area. Many families, even though the kids are long grown, have become close family friends. Eldy also enjoyed going to the Blue Fox Drive-In with his kids and grandkids, often staying for the double feature because he could "sleep-in" the next morning – he was retired after all.
Eldy was known for his loyalty to his family and friends, his easy-going nature and big bear hugs. A bit of advice he would share with any who would listen was to always say "I love you" to those you do. Time is fleeting, you never know when it will be your last chance. Never let the sun go down on an argument with those who matter to you.
Eldy is preceded in death by his beloved wife of 54 years, Kathy (Hofkamp) Nienhuis. He is survived by his four children: Wendy (Randy) Pleasance, Nathaniel (Lanae) Nienhuis, Matthew (Elizabeth) Nienhuis, and Sarah Nienhuis. He is also survived by his seven grandchildren: Emily (José), Meredith (Griffin), Grant, John, Titus, Anika, and Phoebe.
Eldy was a lifelong member of First Reformed Church, Oak Harbor, where a memorial service will be held May 19 at 6 p.m. Eldy will be greatly missed by his family and friends. He will leave a hole no one can fill but we will see him again in heaven with Jesus one day, until then, LOVE YOU Dad/Papa.
In lieu of flowers, donations may be made to Children of the Promise orphanage in Haiti, www.childrenofthepromise.org or to North Whidbey Little League, www.northwhidbeylittleleague.org.
Family and friends are encouraged to share memories and condolences at www.whidbeymemorial.com.