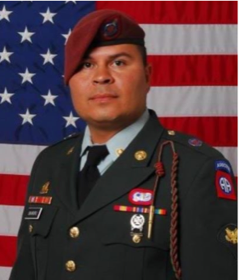 Eli Hiram Okaruru
January 27, 1980 — May 11, 2019
Eli Hiram Okaruru, of Coupeville, died at his home on Saturday, May 11, 2019.
He was born in Saipan, Northern Marianas Islands, on Jan. 27, 1980, to Edward and Mariana Okaruru Olaitiman. Eli married his high school sweetheart, Marylou Moteisou, in September 2005. Eli served as a paramedic in Saipan. He enlisted in the United States Army, serving his country with honor until 2017, including a tour of duty in Afghanistan. He was part of an advocacy group, SourceAmerica, under Skookum Contract Services.
Eli loved to sing and played guitar, ukulele and keyboard with great proficiency. He was known to write and sing songs to his beloved Marylou. He was also a handyman, and enjoyed fixing broken things and making them useful again. Bird houses, chicken coops and trailers were among his handiwork.
Eli is survived by his wife, Marylou; his two children, Ella and Elijah; and his "other son," Max, a purebred Newfoundland.
Visitation was held at Whidbey Memorial Funeral Home. Interment will take place at Tahoma National Cemetery on Tuesday, June 4 with Military Honors by Fort Lewis Honor Guard. Family and friends are encouraged to share memories and condolences at www.whidbeymemorial.com.