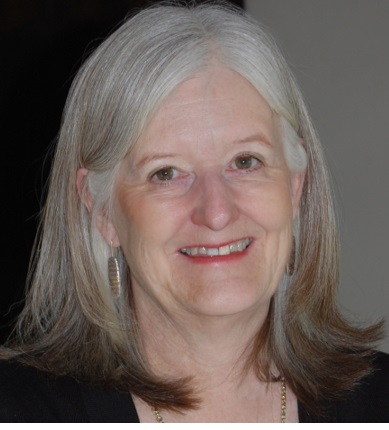 Elizabeth Jean Axford
April 28, 1953 — July 30, 2019
Elizabeth Jean Axford, beloved wife of Patrick Arthur Johnson, died at home July 30, 2019, after a year-long struggle with brain cancer. Her artistic inclinations led her to pursue architecture for 15 years, but then she found her true passion for creating textile art, especially art quilts. Her last and foremost exhibition, Overlay, a solo show at the International Quilt Museum at the University of Nebraska, began May 17 and will continue through Sept. 22, 2019. In explaining her turn from architecture to quilting, Liz was fond of saying that life is what happens when you are planning other things.
Born April 28, 1953, in Vancouver, Canada, to Joan and Barry Axford, Liz grew up in Winnipeg, Manitoba. She loved to draw and attended children's classes at the Winnipeg School of Art. In 1963, the family immigrated to Dallas, Texas. By the age of 10, Liz had decided she would become an architect. Three years later, they relocated to Maryland, where she learned to sew in home economics classes and won the Betty Crocker Homemaker of Tomorrow Scholarship for Maryland. She sewed some of her own clothes throughout high school and college.
With the determination and purpose that she showed throughout her life, Liz moved to Houston, Texas, in 1971 to attend Rice University, where she earned a B.A. in Architecture/Fine Arts (1976) as well as a Bachelor of Architecture (1978). She began her first quilt top in the summer after her freshman year. She attempted to integrate a traditional pattern with design principles she had learned. She never finished constructing the quilt but remained interested in quilt designs.
While a student at Rice, she met Pat. She later told friends that from their first date she knew it was love. They were married on the summer solstice 1980 in Giddings, Texas, at the ranch of Pat's parents. They settled in Houston, where she pursued architecture and he law.
That same year, while purchasing quilting books for her mother, Liz discovered contemporary art quilts and the contingent of (mainly) women educated in art and design who made them. She was intrigued and dabbled in quilts while studying for her architecture registration exam.
Quilt making percolated in her psyche for six years while she practiced commercial architecture. In 1986, she left that grind and began a lifelong pursuit of quilt making as an art form. Textiles satisfied her design instincts and love of process in a way practicing architecture never did. As she immersed herself into a studio practice that steadfastly remained experimental, quilt making became her personal passion and professional focus. Dyeing her own fabrics was an integral part of her artwork; she loved creating with color. From 1993 to 1998, Liz and her longtime friend, Connie Scheele, were partners in Fabrics to Dye For, producing custom-dyed fabrics for themselves and other quiltmakers.
During her 32-year art career, her works have been exhibited in Europe, Asia and throughout the United States. Her textiles have been juried into more than 30 exhibitions and featured in more than 25 publications. Among her numerous awards and honors, she received the Quilt Japan Prize from Quilt Visionsin 1997 and the Award of Excellence from Quilt Nationalin 2017. Most recently, she won theExcellence in Fibers' 2019award for Wall/Floor Works. In 2001, Liz was one of the original artists-in-residence at the Houston Center for Contemporary Craft. She has also served as judge, juror, curator, speaker and educator. She taught classes and workshops in cities across the country, including Anchorage, San Diego, Houston, Gatlinburg, and others, as well as in Tokyo and Osaka, Japan. Her work is touring with the international exhibit Color Improvisations 2,whichopened in Europe 2016 and is continuing in the U.S. until 2020.
After Pat retired in 2012, he and Liz relocated to Whidbey Island and built her dream home with an ideal studio. She was active in Fiber Optix, a group of Pacific Northwest textile artists, and The Surface Design Association, a creative fiber and fabric organization. Somehow, Liz found time for other interests such as gardening and competitive bridge. She spent many summer hours designing and planting her gardens, which were selected for the 2015 Whidbey Island Garden Tour. She and Pat played in multiple bridge tournaments across the continent from 2015 to 2018, highlighted by two wins in the Gold Rush Pairs at the 2016 summer North American Bridge Championshipin Washington D.C.
Liz cherished her family and friends. Her sister, Lorraine (Axford) Woodmansee, was at her side for the last months of her illness. Special appreciation goes to Linda Kendrick, her caregiver, and to the many friends and neighbors who have helped in so many ways during the past year.
A memorial service will be held in the future; the date is still to be determined. In lieu of flowers, remembrances may be made to WhidbeyHealth Foundation/Hospice, P.O. Box 641, Coupeville, WA 98239, or your favorite charity.
Family and friends are encouraged to share memories and condolences at www.whidbeymemorial.com.