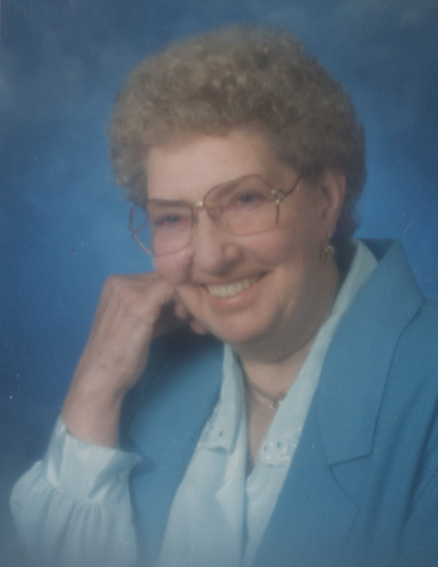 Esther Louise (Houghtaling) Gabelein
July 14, 1921 — October 14, 2019
Esther Louise (Houghtaling) Gabelein, born July 14, 1921, to Thomas and Faye (Andrews) Houghtaling, left us for a better place on Oct. 14, 2019. She was the third-born of their eight children. Though born in Bellingham, she moved to Coupeville with her family at the age of five and spent the rest of her life on Whidbey Island. Growing up with five brothers, she admitted to being a bit of a tomboy, to her mother's dismay, as she hung from monkey bars in a dress, among other antics. She had her first plane ride at an early age with the aid of her Grandfather Andrews, who arranged the flight in a friend's biplane. She had other rides in jet planes over the years and at the age of 90 she flew in a small plane over Whidbey, giving the pilot a verbal tour of the land below. Her one regret was not taking a ride in a helicopter.
Esther attended Coupeville schools until her senior year when the family moved to South Whidbey. She had planned to study nursing after graduation. Instead she met Harvey Gabelein and after a short, six-week courtship, she married him and instead spent many hours nursing Harvey and their children through all kinds of medical problems. The only time Harvey agreed to see a doctor after an injury, he developed blood poisoning. Harvey and Esther settled into a small house on 10 acres near his brothers and uncles above Useless Bay. They acquired 20 adjacent acres where they farmed and raised dairy cows, shipping cream to the Fairmont Dairy and then milk to Darigold. Mom raised a large garden every year, canning fruit and vegetables for winter. She milked cows along side her husband until they switched to Angus cattle registered to Harv-est Farm. Harvey died of an aneurysm in 1978 at the age of 59, leaving Esther a widow for over 40 years. She continued to live on the same property until she went to live with Janice and Brian, her daughter and son-in-law, in 2017.
Esther was an avid sports fan and watched many televised games of baseball, football, soccer, golf and the Olympics. She also read five to seven books a week until just before her death. For many years she played bingo and won more often than her fellow players liked. She could play nine cards at a time. She had a talent for sewing, making most of her daughters' clothes while they were young. She was also a talented baker, well known for her fruit cakes and date nut roll candy each Christmas. She was an adventurous traveler, flying to Adak, Alaska, after Harvey's death to visit her son, Jim, and his family. She took a train and the ferry back to Washington, sleeping on the deck. She and her friend, George, later took trips to California and the Southwest.
Esther was preceded in death by her husband, Harvey; her son, Jim; son-in-law, Ben Lanphere; granddaughter, Kristen Lee; grandsons, Andy Lanphere and Donald Gabelein; as well as sisters, Harriet Clark and Hazel Williams; brothers, Tommy, Hank and Bill Houghtaling; and her parents. She is survived by brothers, Al and Claude Houghtaling; sisters-in-law, Dottie and Peggy Houghtaling; daughters, Janice Martin (Brian), Karen Lanphere and daughter-in-law, Jennie Gabelein (Larry Johnson); grandchildren, Jon Martin (Kim), Tammy Parker, Kari Svendsen (John), Annette Monary (Andy), Connie Gabelein and Shirley Lanphere; eight great-grandchildren and 10 great-great grandchildren. There are also nieces and nephews and their families, too numerous to count.
After a private family interment, there will be a memorial gathering at the American Legion Hall at Bayview on Nov. 16, 2019 from 1- 4 p.m. We want to thank the Central Whidbey Fire responders, WhidbeyHealth, Careage and Hospice personnel who were so caring and helpful to Mom and us during her last few days. We request that in lieu of flowers, you send a contribution to WhidbeyHealth Hospice or a charity of your choice. Family and friends are encouraged to share memories and condolences at www.whidbeymemorial.com