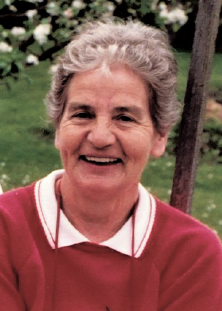 Grace J. Horn
August 20, 1932 — August 1, 2019
Longtime Oak Harbor resident, Grace J. Horn, passed away Aug.,1, 2019 as she had desired – at home with family by her side.

Arriving in Oak Harbor in 1959 with her husband and two children, she quickly began establishing links to the community that would become the family's homestead. While her husband, Russell, continued his Navy career, Grace excelled at bringing to life their new house and home. Raising and nurturing first two, then three, children, she cultivated flowers and vegetables at home, while pursuing other interests at home, in the church, and her community.

Grace's Christmas baking became legendary, enjoyed immensely by family, friends, and many Oak Harbor city employees. A lifelong quilter, Grace kept her home, family, and friends warm,iterally, through her never-ending supply of quilts and quilted extras.

She was a fixture at the Oak Harbor First United Methodist Church, where she worshipped regularly and donated her time and commitment across the years to many roles, including church secretary, Sunday school superintendent, childcare/nursery coordinator, choir member, and contributor of Christmas bazaar wreaths, breads, and other items.

In the years after her children were grown, Grace increased her community involvement through the John Vanderzicht Memorial Pool as a swimmer and member of Friends of the Pool; as a North Whidbey Pool, Park, and Recreation District commissioner; and as a rider on Island Transit buses and participant with its Citizen Advisory Board. In recent years, Grace especially liked cutting pies and visiting friends at the annual North Whidbey Community Harvest Thanksgiving dinner.

Grace Joan Horn was born August 20, 1932, in Duluth, Minn., daughter of Frank and Johanna Pluth. She was married to Russell Horn from Oct. 27, 1953, until his passing Nov. 12, 2000. She is survived by three children, Kim, Mark, and Daniel and several grandchildren.

In lieu of a service and flowers, the family suggests donations to: North Whidbey Community Harvest, 1090 SE Hathaway St., Oak Harbor, WA 98277 or Sno-Isle Library Foundation, Sno-Isle foundation.org, Friends of the Oak Harbor Library, 1000 SE Regatta Dr, Oak Harbor, WA 98277.
Family and friends are encouraged to share memories and condolences at www.whidbeymemorial.com.