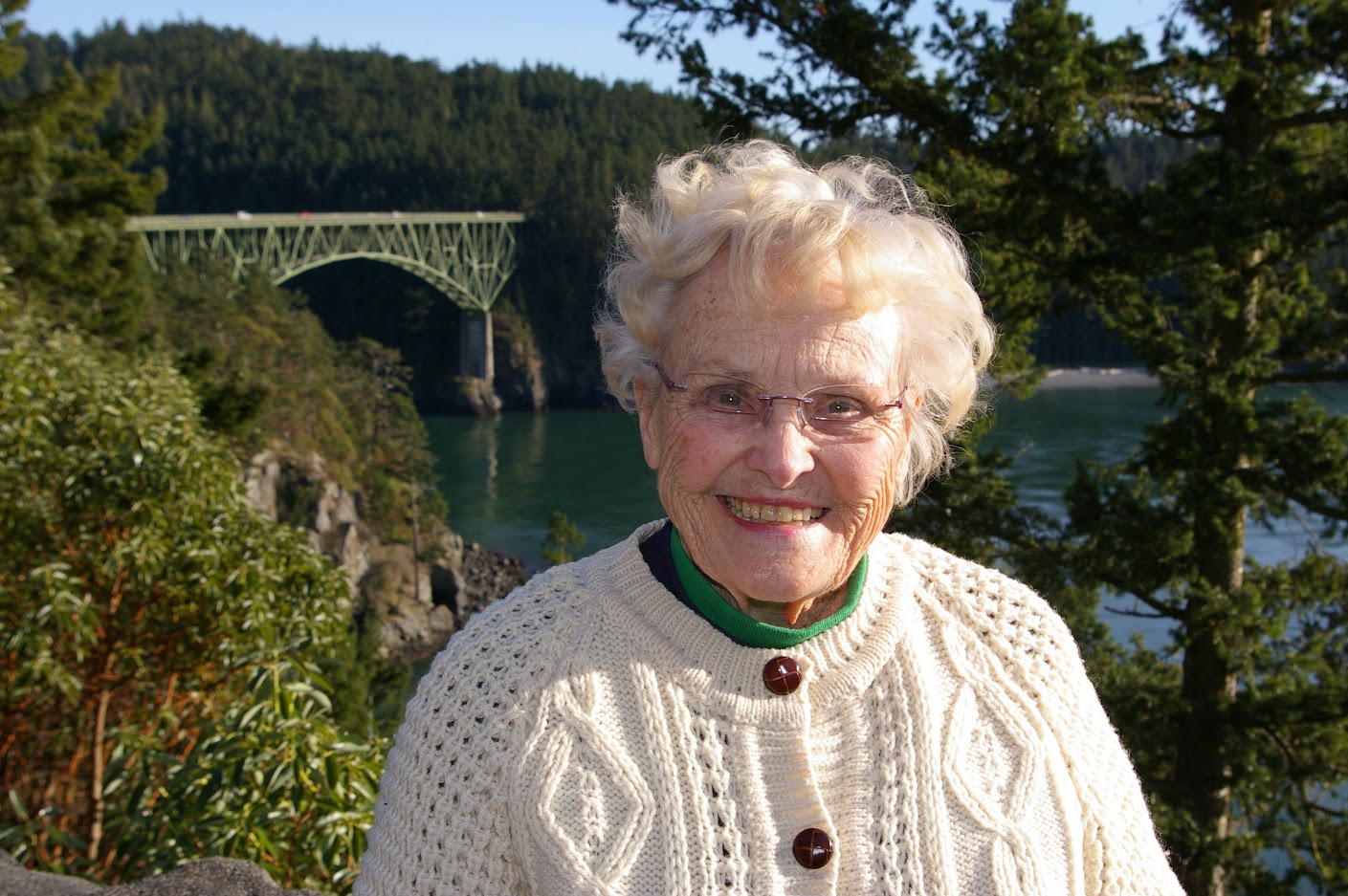 Helen Chatfield-Weeks
January 15, 1925 — June 22, 2022
The vibrant and vivacious Helen Chatfield-Weeks passed away peacefully surrounded by her
family in Oak Harbor, Wash., June 22, 2022 at the age of 97. Born Helen Elizabeth
Fryer in El Paso, Texas Jan. 15, 1925 to prominent criminal attorney, William Henry and
Mary Alice (Kelleher) Fryer, Helen was her parents' sixth and most mischievous child. She got
into lots of fun trouble growing up and was designated the "football princess" for her
cheerleading skills in high school, before going off to college and graduating from Northwestern
University with a BA in Speech.
Helen was known for her high-pitched, signature laugh, loud Irish pride, and fun life stories
adorned with Helen's dramatic animation and wit. She loved to recount her impromptu "honorary
member" induction into the VF-2 Squadron as a teen during a train trip, or an encounter with
Edward R. Murrow during The Association of Women Broadcasters Convention in New York (a
story so good, Reader's Digest published it!), or a tea-time invitation with President Truman and
his wife, or a trip to Hollywood to interview movie stars.
But perhaps her favorite story was of falling in love and building a beautiful life with a handsome
Air Force Lieutenant named James David Lloyd Chatfield, who she met in 1948 while on a date.
She said they were each with other people but couldn't stop staring at each other all night! Jim
had heard her cooking show radio program on KROD as he flew around El Paso, enjoying her
descriptions of tasty recipes. The two married a few months after meeting. To Jim's surprise,
Helen couldn't cook! But she learned, eventually.
Helen and Jim lived around the world, including in the Philippines, Switzerland, France, and
Italy, and across the U.S. in Ohio, Washington D.C., and California. Her stories from that time
include parties in their lovely 20-acre Swiss mansion and attending functions in Italy hosted by
Fiat president Giovanni Agnelli. Along the way, they had six children. Helen stayed active and
involved in various wives' clubs, where she said they always made people laugh.
June 29, 1969, Jim, by this time a Colonel, died from lung cancer. As a widow with six children
(oldest 19, youngest 3) at the age of 44, who just moved to Washington, Helen had to start her
life over. A road trip north fueled by uncertainty serendipitously landed Helen and the kids in
Oak Harbor on Whidbey Island, when she saw a sign for a ferry to the Naval Air Station and
decided to make a turn. And so began Helen's legacy in the small town that would embrace her,
as she devoted her life to just about every cause and organization focused on the betterment of
the community.
Helen picked up a camera and became a reporter and photojournalist for the Skagit Valley
Herald for 18 years. She won national and local awards for her writing and photos, with some
pictures being featured on the cover of magazines or other places that circulated across the
nation. She also wrote a column for the Whidbey News-Times and had a news program on
KBRC. At 57-years old, Helen rode with one of the Blue Angels and lived to write about it!
In 1988, Helen married retired U.S. Navy Rear Admiral Charles Stillman Weeks, after the two met and got to know each other through community functions. They had some fun times that
involved parties and dancing! Charlie passed away in 1991.
Oak Harbor residents who didn't know Helen will immediately recognize her community
contributions. She helped save and restore the Neil water tower (and got it on the National
Register of Historic Places!), helped keep the Holland Happening Celebration going (she was
once designated an "Honorary Hollander," despite being Irish!), chaired the Parks Board when it
established the Scenic Heights Trailhead (she cut the ribbon!), once served as Grand Marshal
for the St. Patrick's Day Parade (and was in many a parade, known for her Irish jigs!), and her
larger-than-life acting skills were frequently on display at the Whidbey Playhouse theater (her
specialty was a Shirley Temple impression!).
In 2012, Helen was honored during the Island County Historical Society's Awesome Auction,
because of her community involvement and work to preserve local history. Helen was also
honored with the title of Oak Harbor's official city cheerleader, often giving her famous "Hip, hip,
hooray!" cheers at meetings, parades, and events. A Garry oak tree is planted in Smith Park in
Helen's honor, a park she lived within walking distance of for over 30 years.
Helen loved animals, and was a huge supporter of the Whidbey Island Pony Club and Whidbey
Island Horse Trails for decades. She enjoyed the outdoors, backpacking up in the mountains
where she took an infamous Bigfoot picture that was later featured in a book. In the winter,
Helen was a friendly face on the ski bus from Oak Harbor to Stevens Pass as she hit the slopes
well into her late 60s.
Here is the long list of organizations Helen was involved in: The Navy League (once awarded
Navy Leaguer of the Year, and first woman to serve on the board), Retired Officers Wives Club,
American Association of University Women of Whidbey Island, Northern Deanery of the
Archdiocese Council of Catholic Women, Oak Harbor Yacht Club, Irish Wildlife Society, Oak
Harbor Municipal Pier Committee, Oak Harbor Park Board, and lector at St. Augustine's
Catholic Church. No doubt there's more, the family is still learning about them!
Helen's bright smile and distinct laugh now live on in her children, and grandchildren. Her family
knew her as a loving and supportive mother and grandmother, and source of inspiration. Helen's positive spirit will continue to thrive within the Oak Harbor community, and in the many people whose lives she touched.
Helen is survived by her daughter Camelia Chatfield of Guemes Island, Wash.; son Jim (Linda)
Chatfield of Mead, Wash.; son John Chatfield of Oak Harbor; daughter Linda Chatfield of Oak
Harbor; son Tom (Linda) Chatfield of Oakland, Calif.; granddaughter Leanne Chatfield of
Anchorage, Alaska; grandson David Chatfield of Prescott, Ariz.; grandson Jason Chatfield of Wasilla, Alaska; granddaughter Lauren (Andrew) Steinbrecher of Salt Lake City, Utah; granddaughter Michelle Chatfield of Spokane, Wash.; granddaughter Helen Chatfield of Spokane; great-granddaughter Madison Stumpf of Des Moines, Wash.; great-grandson Austin Chatfield of Indianapolis, Ind.; great-grandsons Hasan and Makai Wilkerson of Anchorage, Alaska; and great-grandson Dominic Chatfield of Spokane.
She is preceded in death by her husband Jim, second husband Charlie, parents, sisters
Rosemary Fryer, Margaret Hart, and Elecia Krumb, brothers William and Austin Fryer, son David Chatfield, daughter-in-law Eileen Chatfield, grandson Miles Chatfield and grandson Jim Stumpf.
Helen's life will be celebrated during two public services. The memorial service will be held
Friday, Aug. 5, 2022 at St. Augustine's Catholic Church in Oak Harbor at 10 a.m., with
reception to follow. A community celebration of life will take place Saturday, Aug. 6, 2022 at
Windjammer Park at 12 noon. A private family interment of ashes ceremony will take place at
the Fort Worden Military Cemetery in Port Townsend.