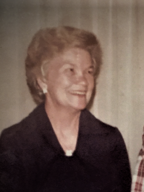 Helen Frances Stimple
January 31, 1920 — March 4, 2020
There was much rejoicing in Heaven over the arrival of Helen Frances Stimple of Oak Harbor, Wash., on March 4, 2020.
A sweet baby girl was born with many dreams in her heart. And after a long, wondrous life of 100 years, Helen has made a beautiful difference in our world and in the lives of those she has touched with her love, faith, and music.
Helen was born Jan. 31, 1920, in Santa Ana, Calif., to Burr and Nellie Talbert. The Talberts had come from Iowa before the Depression era to Orange County, Calif., where Burr was a gentle, kind orange orchardist. Helen graduated from Orange High, where she shared her joy of music in being a soloist at graduation. Later Helen would receive her Bachelors and Masters Degrees from Boise State University.
Music always brought much joy to Helen – singing in choirs, directing children's and youth choirs, bringing the delight of music to others by playing the piano in schools, churches, retirement and nursing homes.
Helen is now enjoying the blessings of Heaven after a lifetime of serving the Lord in many ways in Presbyterian churches in California, Idaho and Washington. Often at the end of church services, she would find a quiet, shy newcomer to invite for lunch.
Helen married her best friend, Sam Stimple, in Orange just before the World War II era. They were married June 25, 1939. Sam worked at Douglas Aircraft in Long Beach, Calif. They were blessed with a son, Sam, Jr. (Carol) Stimple and with daughters, Diane (Jim) Cheshire and Kathy (David) Larsen; 11 grandchildren and many great and great-great-grandchildren to fill their lives with love and laughter.
Summer cross-country vacations to historical sights were treasured by our family, as well as picnics, fishing, gardening, square dancing, and Camp Sawtooth near Ketchum, Idaho.
After their move from California to Boise, Idaho in 1947, Helen and Sam found much delight in becoming dedicated educators at heart. There are hundreds of students during their nearly 40 years of teaching who were blessed to be in their classrooms in several Boise schools, where Helen enjoyed teaching and being an encouraging mentor to several student teachers, and where Sam was a much-admired school principal. Helen also served on Idaho Board of Education committees.
Traveling to Reader's Theater conferences throughout Europe and our country was inspiring and Helen brought back this wondrous activity to her students.
Helen was preceded in death by her beloved husband, Sam, in 1992 and by many family members and friends. In 2004 Helen moved to beautiful Whidbey Island to live in Oak Harbor, where she so enjoyed being near the home of her daughter, Kathy.
Helen will be cherished and remembered as a bright, shining light in the various communities, schools and churches she so graciously served and in the hearts of those she touched so compassionately throughout her life. Private services will be held at a later date. Family and friends are encouraged to share memories and condolences at www.whidbeymemorial.com.