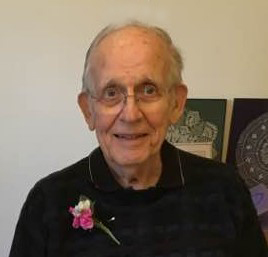 Jack Sondericker
December 3, 1928 — January 17, 2021
John R. Sondericker was born on a grape ranch near Exeter, Calif., to Claude and Lillith (Armitage) Sondericker. He joined a family that included two older sisters. Jack spent all his growing up years on the ranch. He attended Exeter schools, and graduated from high school in 1946. In 1943, Jack was invited by a friend to a youth event at the Exeter Baptist Church. It was there that he met Maxine Willems. They dated all through high school and married in June 1948.
Jack and Maxine started their married life in Berkeley, Calif., where Jack attended the University of California and the Berkeley Baptist Divinity School. Their first child, Deborah, was born there. In 1953, Jack was ordained and became the pastor of a church in Rio Vista, Calif. While they lived in Rio Vista, two more children, Rebecca and Stephen, joined the family. In 1962, Jack was called to serve a church in Moraga, Calif., and the family moved to the Bay Area. A fourth child, Philip, was born there. In 1966, Jack was called to serve a church in Oak Harbor, Wash. They loved the northwest immediately, and stayed in Washington state for the rest of their lives together. In 1978, they were called to a church in Spokane. In 1989, they were called to serve two small churches in Roslyn and Cle Elum, Wash. Jack retired in 1992, and they returned to Oak Harbor, where they had many friends and family.
Retirement from active ministry did not bring idleness. Jack remained active in the Rotary Club. He first joined in Rio Vista in 1954 and retained his perfect attendance record until his "retirement" from Rotary in 2019. He also had a great love of theater and movies. He participated in amateur dramatic productions from his high school days until his 80s. He was in many plays over the years at the Whidbey Playhouse. During his time in Spokane, he turned his flair for dramatics into a second career by doing voiceovers for local commercials and reading books on tape. At the time of his death, he was still receiving royalties for his work on audio books, and there are several of those still available through the local library system.
In retirement, Jack and Maxine began to do the traveling they had always wanted to do. They took a variety of cruises and traveled all over the world. They visited Europe several times, as well as China and South America. They loved living close to their children, grandchildren, and great-grandchildren, and visits were frequent.
Jack and Maxine were active members of Oak Harbor First United Methodist Church. Jack acted as guest pastor there many times, and often was called upon to narrate various church programs.
As Maxine's health began to fail, they sold their home of 25 years and moved to the Cottages at Regency on Whidbey. A few years later, they moved into the assisted living facility at Regency.
Jack was preceded in death by his parents, Claude and Lillith Sondericker, and his two sisters. November 30, 2020, his beloved Maxine preceded him to Heaven. They were reunited there on Jan. 17. Jack is survived by his children: Debbie (Bob) Wallin, Becky Machin, Steve Sondericker (Loraine), and Philip Sondericker. He is also survived by five grandchildren: Caitlin Machin (Rob Anderson), Julia Machin, Kirstin Wallin (Justin Roche), Kelda (John) Adair, and Erik Wallin (Laura). He also dearly loved his five great-grandchildren: Cara Adair, Cayden Wallin, Kyla Wallin, Silas Anderson and, Oriana Anderson. He is also survived by several nieces and nephews. A celebration of life will be held at a later date.
Memorials may be made to Oak Harbor First United Methodist Church.
"And what does the LORD require of you? To act justly and to love mercy and to walk humbly with your God." Micah 6:8