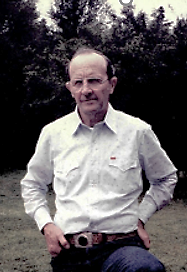 Joe L. "Bud" Metcalfe, Jr.
December 10, 1929 — June 15, 2019
Joe "Bud" Metcalfe passed away June 15, 2019, in Oak Harbor, Wash. at the age of 89. He was surrounded by many family members.
Bud was born Dec. 10, 1929, in Wauconda, Wash. He grew up and went to school in Tonasket, Wash. Bud left the east side of the state to try to find work in Western Washington. He was hired at a Seattle foundry and during that period met the love of his life, Bonnie White. They married soon after.
Bud decided to try something else and went to barber school. Upon graduating, he worked in Seattle and then finally ended up in Bothell. By this time, Bud and Bonnie had two kids, Steve and Belle. He then decided he liked farming and bought a dairy farm in Satsop, Wash. He liked the farm and all the things it brought. During this time, Bonnie worked for Valentine Realty. Bud was then faced with another decision, as his son Steve and daughter Belle did not wish to be farmers. Knowing all the local dairy farmers, he threw his name in to work for the DHIA (Dairy Herd Improvement Association). Bud was now measuring milk quantity and quality. He sold the farm and moved to Elma, Wash. A friend then helped him get a job with Weyerhaeuser in Cosmopolis. He moved again to the opposite side of Elma, on Hurd Road. It was at this residence that Bonnie became terminally ill and passed away in Sept., 1986. Bud never remarried, but continued working for Weyerhaeuser until his retirement from the company. He later moved to a house up Cloquallum Road, closer to Shelton, and near a cabin the family had at Lost Lake. Bud loved to hunt and fish, and later did some traveling.
Bud's first big road trip was flying back east to help his son, Steve Sr., and daughter-in-law, Judy, bring back a new conversion van, which Steve had bought from Judy's dad. Bud loved the trip and was impressed with Mount Rushmore, Chief Crazy Horse and Deadwood. He also went on a couple of cruises with a good friend, just to see what they were all about. On one of Bud's last fishing trips with his dad, there was Bud, his dad, Joe Sr., son Steve Sr. and grandson Steve II. With his usual big smile, he said, "You don't see four generations of Metcalfe's fishing in a boat every day!" He loved to be with family and friends, and loved helping family members out. At one point, his daughter Belle was a single parent trying to make ends meet, and he took his granddaughter, Annabelle, everywhere he went. Bud was proud his daughter Belle went to college and later worked for Boeing. He also taught his grandson, Steve II, to ride horses. He spent his last few years at Summerhill in Oak Harbor, closer to his family. He had stories too numerous to list with all of the extended family.
Bud didn't care very much for the Summerhill lifestyle, but he very much liked being close to family and new-made friendships. He loved to take road trips around Oak Harbor to check things out and would never check in and out like Summerhill wanted him to do. His thought was, "This is an island and I'm sure they can find me if they need to." Bud would visit his son, Steve Sr., for coffee most every day. He loved that the girls in the office brought him a coffee and a Baby Ruth candy bar where son Steve Sr. worked. Bud would then head to Steve Jr's. septic business to visit next. He never let any grass grow under him and would often take off with Judy, his daughter-in-law, for lunch and more road trips. This, however, got modified when he ended up waiting at a nail salon with Judy.
Bud will be missed by all that knew him. He leaves a large extended family. Bud was preceded in death by his parents, Joe and Annabelle Metcalfe, his brothers, Bob and Rod, and sister, Jackie; also his wife, Bonnie. Bud will be remembered by his children: Steve Metcalfe Sr. and Belle Metcalfe-Oliphant. He will also be remembered by his grandchildren, Steve Metcalfe II, AnnaBelle Johnston, Chrystal Weld, Walter Catterlin, Jessica Oliphant, Jarred Oliphant and Jordan Oliphant and their spouses. Bud also leaves 14 great-grandchildren and three great-great-grandchildren.
At Bud's request, he did not want a memorial service, but preferred to have any donations made in his honor to a favorite charity. Family and friends are encouraged to share memories and condolences atwww.whidbeymemorial.com.
The family would like to thank Island Hospital in Anacortes for their kind care, WhidbeyHealth Hospice and of course, the staff at Summerhill.