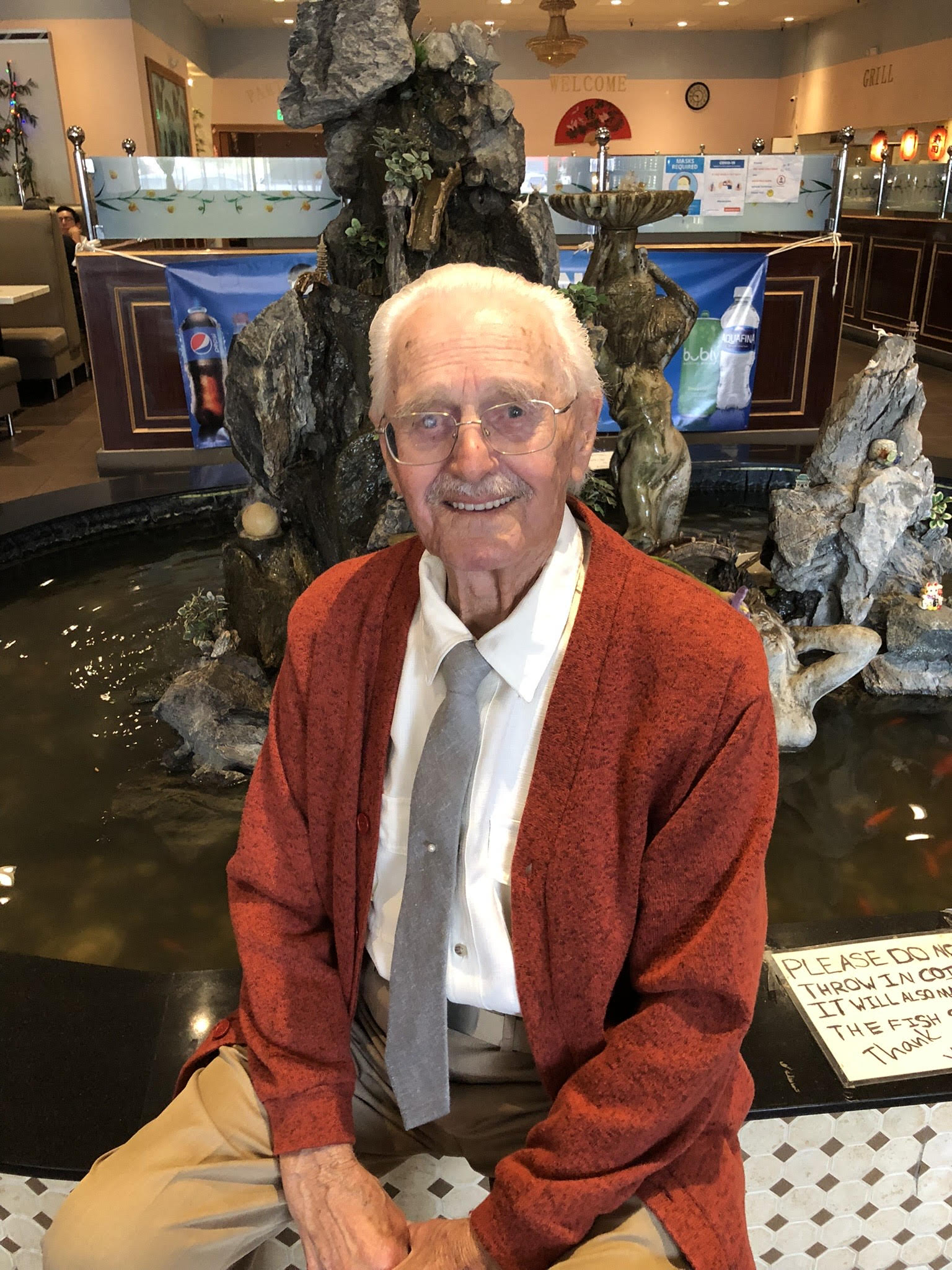 Johannes (Joop) Westerkamp
September 25, 1930 — September 8, 2022
Johannes (Joop) Westerkamp, 91, of Oak Harbor, Wash., passed over to his eternal home Sept. 8, 2022. Born in Rotterdam, Netherlands Sept. 25, 1930, to Johannes Westerkamp and Jantsje De Vries Westerkamp, Joop, as everyone knew him, was preceded in death by Tonny, his wife of 65 years; his brother Jan Westerkamp, Rotterdam, Holland; granddaughter Alicia Mitchell, Oak Harbor, Wash.; and great-grandsons Corbin and Garrett Powell, Berry, Ky.
Joop was a true family man and boasted of how blessed he was to have such a wonderful and loving family to all who would listen. Those now left without him are his brother, Arend Westerkamp, Doetinchem, Netherlands; Tonny's sister, Gerda Winchell, Florence, Ky.; three children, Jantine Stoops, Berry Ky., Jan T. Westerkamp (Flor), Lake Havasu, Ariz., and Antonia Mitchell (Alan), Oak Harbor; eight grandchildren, Charlotte (Chuck) Harmon, Florence, Victor (Tammy) Lewis, Fredericksburg, Va., Tamara J. Powell (Jay), Dry Ridge, Ky., Eric Marshall (Michele), Oak Harbor, Ted Marshall, Kirkland, Wash., Jon Mitchell, Oak Harbor, Luz Calaycay (Edison), San Diego, Calif., and John A. Westerkamp (Yuqui), Lake Havasu; 20 great-grandchildren, Valentine Westerkamp, San Diego, David Westerkamp, Lake Havasu, Mayra Westerkamp, Lake Havasu, Valerie Westerkamp, Lake Havasu, Marcos Westerkamp, Lake Havasu, Ericca Calaycay, San Diego, Anna Calaycay, San Diego, Erin Calaycay, San Diego, Elijah Mitchell, Oak Harbor, Preston Mitchell, Oak Harbor, Dillon Mitchell, Oak Harbor, Noah Marshall, Oak Harbor, Janay Baeyen, Oak Harbor, Angelo Marshall, Kirkland, Meagan (Austin) Haubner, Aiea, Hawaii, Lindsey Kinard, Louisville, Ky., Christopher Lewis, Manassas, Va., Jessica Philippon, Harpers Ferry, W.Va., Jonah Philippon, Fredericksburg and Sarah E. Lewis, Fredericksburg; two great-great-grandchildren, Mason Westerkamp, San Diego, and Abigail Philippon, Fredericksburg; one nephew, Olaf Westerkamp, Doetinchem, Netherlands; two nieces, Kirsten Westerkamp, Doetinchem, Netherlands, and Ineke Westerkamp, Netherlands.
Johannes was born into the Great European Depression, which evolved into World War II. He learned true survival skills living in the German occupied Netherlands. In his later years, he had many stories to share with all the generations of his family. He began working in the Rotterdam Harbor as a very young man and retired from the Navy Exchange Warehouse in San Diego before finally settling down in Oak Harbor. He loved going to Windjammer Park with a thermos of hot tea and a sandwich to eat while soaking up the air, the sun and the sounds of the ocean. He loved walking to the stores and talking to strangers, who never remained strangers. He would visit the county probation office often, just to see Tonica (Antonia) and talk to her coworkers, sometimes surprising all with sauerkraut or pumpkin bread. For the holidays, he would make a large container full of oliebollen! Because he was the primary caregiver for Tonny since his retirement and until she passed away, he taught himself to cook. Some of his experiments were fantastic and others were sad failures, but he just tried again another time. He kept his mind sharp by reading everything he received in the mail and doing his word search puzzles while sitting outside in the fresh air. Joop will be remembered for the smile he always had on his face and his sense of humor. He loved God, his family and all living things. Even those who had trouble understanding him due to his accent knew he was a man worth knowing. He will not be forgotten.
A Celebration of Life will be held for Joop Saturday, May 6 from 1 to 3 p.m. in the west kitchens at Windjammer Park. All are welcome to stop by and share a memory.