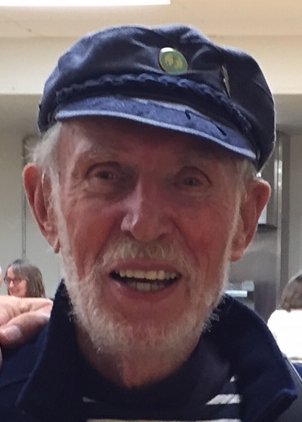 John H. "Jack" Moeller
July 19, 1928 — October 29, 2020
Beloved husband, proud father and loving grandfather, John H. (Jack) Moeller, of Coupeville, Wash., passed away peacefully in his sleep at his home on the morning of Oct. 29, 2020 due to advanced lung cancer.
Jack was born July 19, 1928 in Chicago, Ill., to Herbert W. and Florence P. Moeller. In 1946, after attending high school in Chicago, Jack entered the Illinois Institute of Technology (IIT) and was accepted into the Naval ROTC program. In 1950, Jack graduated from IIT with a bachelor's degree in mechanical engineering and was commissioned as a Lieutenant in the U.S. Navy. He served for three years during the Korean War, first aboard the USS Fiske and later aboard the USS Porterfield. In June 1953, Jack was honorably discharged, and in September of that year, began attending Princeton University, where he earned a master's degree in engineering. In 1956, Jack began working for Cook Electric Co. as a project engineer at its Technology Center in Morton Grove, Ill.
In November 1961, Jack married the love of his life, Mary J. Kandzor, a native of Chicago. In 1963, Jack left Cook Electric to work with the Ventura Division of the Northrop Corporation, located in Newbury Park, Calif. During his career at Northrop's Ventura division, he was involved with the NASA Space Program's Ringsail Parachute Recovery System used during the Apollo mission, and saw their family grow with the additions of Lisa Marie (1962), Jonathan Jude (1964), and Christopher Jason (1972). Jack briefly left Northrup and moved his family back to Illinois where he worked with TAB Engineering for a short period but ultimately returned to California and Northrup as a group chief in the engineering department, retiring in 1990.
During the 1980s, Jack and Mary purchased a 40-acre parcel in an isolated area north of Paso Robles, Calif., which they named Wild Boar Ranch after observing the animals during a visit. The parcel was arrayed with ancient oak trees, dense chaparral hills, and a golden meadow and hill. Over the years while visiting the property, they worked together to design and make many improvements, including the laying of roads, coordination of a well and natural wildlife pond and construction of a barn. Also during this time, the family grew with the additions of grandchildren Ashley, Nikolai, and Josiah.
Jack had a lifelong interest in classical music, including the drum and bugle corps in high school, the Ventura County Master Chorale and singing with the church choirs at Saint Paschal Baylon Catholic Church in Thousand Oaks, Calif., and St. Mary's Catholic Church in Coupeville. In retirement, he continued his love of music by joining the Shifty Sailors in 2001, a 20-man singing group focused on singing songs of the sea. His wonderful bass voice can be heard on multiple albums, including H is for aHoy, and Ho, for the Life, where he was the featured soloist for the song, "Blow the Man Down."
In 1995, Jack and Mary moved to Coupeville, where they enjoyed many happy years together, where the family grew once again with the additions of grandchildren Aislinn, Gavin, and Breanna, and where they recently celebrated their 58th year wedding anniversary.
Jack is survived by his wife, Mary, two sons, Jonathan and Christopher and five grandchildren: Ashley, Nikolai, Josiah, Aislinn, and Breanna. He was preceded in death by his parents, sister Joan, brother Donald, daughter Lisa and grandson Gavin.
The Moeller family suggests memorials in Jack's name may be made out to the American Cancer Society online at: www.cancer.org.
A graveside service with Rite of Committal is scheduled for Nov. 20 at 1:00pm at Sunnyside Cemetery in Coupeville. Rev. Paul Pluth, J.C.L. will be presiding. Special songs will be performed by the Shifty Sailors and military honors provided under the auspices of the NAS Whidbey Island Honor Guard and Bugles Across America.
Arrangements were entrusted to Wallin Funeral Home, Oak Harbor, Wash. Please visit Jack's page in our Book of Memories online at www.wallinfuneralhome.com to share memories and leave condolences.