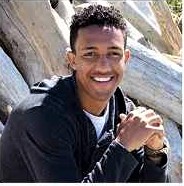 Jordan Menlewal Shelley
— May 24, 2022
Jordan, along with his two siblings Simon and Banchegize, were adopted by Teresa and Lanny Shelley in 2007. They joined four other Shelley siblings and lived on Whidbey Island with their family. Growing up, Jordan loved soccer, snowboarding and school. He attended Skagit Valley College, earning his AA as he simultaneously graduated high school, and was awarded a full ride, private merit scholarship to the University of Washington for Fall 2018.
Jordan began his life as part of a loving family in a small village in Ethiopia. His mother and father were raising three children: Jordan, Simon and Banchegize. Jordan and his siblings were adopted and came to the United States in 2007. If you were lucky (and he felt comfortable), he'd share stories about his life in Ethiopia and talk about the challenges he faced with language and cultural differences growing up in the U.S. He was outwardly appreciative of the opportunities he'd had as a result of being in the U.S. Jordan also spoke about his interest in reconnecting to his culture and to his Ethiopian roots.
Jordan lived more life and overcame more obstacles through sheer determination in his 22 years than most will in a lifetime. He was crazy smart (graduated in two years from the UW with his biochemistry degree), and funny and handsome and kind and so very optimistic. And "that's what's up" – a classic Jordan-ism. An aspiring physician, Jordan was intent on using his gifts to help others, which led him to being an EMT at AMR in Seattle while prepping for his upcoming MCAT exam and application to medical school next year. He was kind beyond compare and despite many life challenges, he created opportunities for himself through hard work and his one-of-a-kind Jordan charm. His Ethiopian name was Menlewal, which roughly translates to "one who helps," and Jordan lived this truth in his actions, his words, and his heart. He leaves behind many family and friends who love him deeply.
Following his graduation from the UW, Jordan wanted to gain practical experience in the medical field. He received a scholarship to study and certify as an EMT in Seattle. He finished his certification and began his career with AMR in 2021. Jordan was excited to become a first responder and enjoyed helping others in this role. Working as an EMT solidified his decision to become a physician and he was preparing to take his MCAT and apply to medical schools this year.
University of Washington
Jordan attended the University of Washington from Fall 2018-December 2020. It was his freshman year when he met Cydni (his girlfriend) and Ethan (his roommate and best friend). Four years of adventures, sharing their living space and co-parenting their sweet dog, Zulla, created many lifelong memories together. While at the UW, Jordan enjoyed time with friends, attending Husky football games, working out at the IMA, camping, snowboarding, and playing a little soccer. He enjoyed a few trips with Cydni, Ethan and friends and was always up for an adventure. He worked while attending school, driving Door Dash in his spare time, working at Harbor Square Athletic Club, and a short time at Car Toys. Jordan graduated UW with his Bachelor of Science degree in biochemistry and planned to attend medical school next year.
A memorial service will be held Saturday, June 18, 2022 at 2 p.m. at South Whidbey Assembly of God, 5373 Maxwelton Road, in Langley. Family and friends are encouraged to share memories and condolences at www. whidbeymemorial.com.