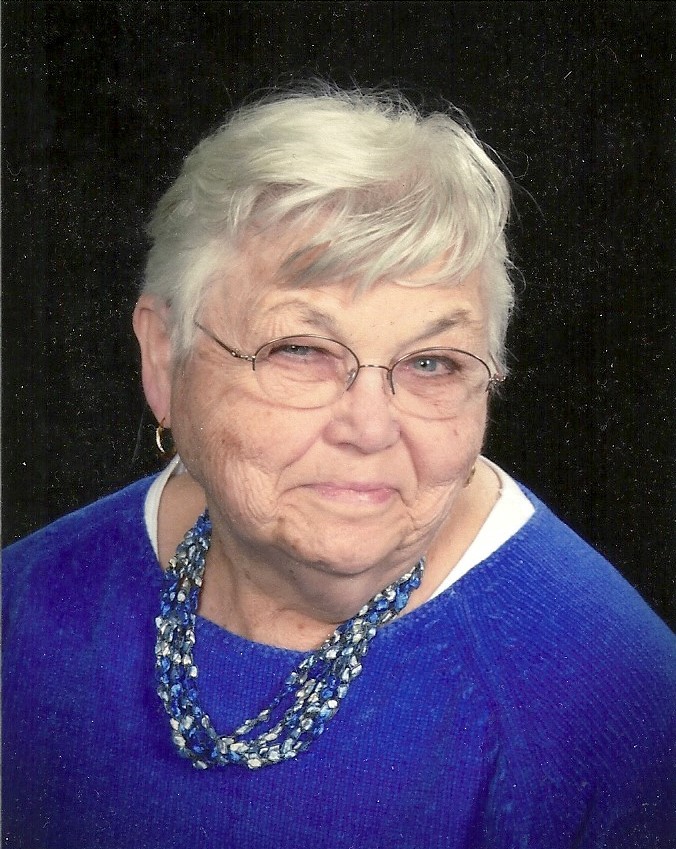 Joyce M. Vance
November 5, 1940 — November 25, 2020
Joyce Marlene Vance, 80, Christian, Navy wife, matriarch, and prankster, left this world peacefully to be with God in the early hours of Wednesday, Nov. 25, 2020. Her pastors prayed with her while family was at her side.
Joyce was born in Newburgh, N.Y. to Harvey Sarvis and Eva Bates Nov. 5, 1940. She was the second of six children and while growing up, her hobbies included roller skating and ice skating. She had a very close relationship with her grandparents.
A few years after meeting Elmer Vance in junior high, they started dating in high school. In 1958, they married Nov. 30. Elmer had enlisted that same year into the U.S. Navy and now their family moved from duty station to duty station. First it was Lakehurst Naval Air Station in New Jersey and their family grew when their two sons, Mark and Mike, were born. Maryland and Memphis came next with Alameda, San Diego, and Moffett Field following. Those various posts in California are when their daughters, Robin and Julee, joined the family.
In 1972 Elmer was stationed in NAS Whidbey Island. Reputation said Whidbey Island was going to be a place to settle down – and it was. The island was the first place they decided to plant roots and purchase a house. The Pacific Northwest was now their home.
Five years later, Joyce continued to raise the family in Oak Harbor when Elmer got stationed back to California. The family decided to remain on the island and Elmer retired from the Navy in 1977. Joyce held positions at JCPenney in Mount Vernon, the Navy Exchange hardware/garden department and owned her own consignment store. She also took classes at Skagit Community College.
Joyce had a soft heart for children and babies. She wanted to provide a stable and safe environment for all. But she went beyond that. In addition to her own children, she was a mother to those in need whether in an emergency or not. Each child was made to feel a part of the family. For over 20 years she helped with placement of foster children within the DSHS system. She also taught foster parenting classes for Island County.
Joyce was a religious instructor and officiated Bible study lessons for children and adults at First United Methodist Church in Oak Harbor. She was a prayer warrior and known as the Prayer Lady in Sunday school. Other religious activities included being active in the Walk to Emmaus community, contributing in vacation Bible school, and being a Stephen's Minister.
Outside of church, she was a member of the Bunko Gals, a Cub Scout Mom, an Ombudsman for NAS Whidbey, and crocheted blankets and procured necessities for Margie's House. Through committees, she contributed to many places like Help House, Christmas in July, other local charities.
Joyce was a long-standing member of the Navy Wives Club of America Whidbey Island #150. She rose to the rank of president, was on the national board, and was the only lifetime member of the local organization. The Navy Wives Club helped to establish BabyLand inside Maple Leaf Cemetery.
April Fool's was Joyce's favorite day. She was a calculating, practical joker. Friends and family avoided her phone calls on April 1st to escape her pranks.
She loved popcorn, wine, and seafood. She enjoyed doing jigsaw and crossword puzzles, watched Jeopardy, and embraced technology that allowed her to communicate with her family. She dabbled in all crafts, decorated cakes, canned foods, took Chinese cooking classes, and ceramics. Joyce loved pets and they were a big part of her life. She was an avid chicken memorabilia collector.
Joyce was a selfless person who lived a full life to help others and was the "glue" of the family; being the example you would want to live by – our superhero.
Surviving Joyce are her four children: Mark (Rose), Mike (Norma), Robin (Ken), and Julee (Chris). Grandchildren: Melissa, Michael John, John, Mark Jr., Matt, Brian, Elizabeth, Lauren, Anastacia, and Gabriel. Great-grandchildren: Anna, Lena, Isabella, Keith, Violet, Jace, Charlotte, Victoria, Liam, Chase, and Emmet. Siblings: Karen, Jim, and Tom.
Preceding her in death are Elmer, husband of 55 years; her parents; her brothers: Richard and Frank; and grandchild: Justin.
Joyce's family suggests donations/pledges be made in her name to: First United Methodist Church of Oak Harbor online at: oakharborfumc.org/give, or by mail to FUMC Oak Harbor, 1050 SE Ireland Street, Oak Harbor, WA 98277; or donations to a charity of your choice.
A private family interment will take place at Maple Leaf Cemetery, where she will be buried in BabyLand next to her two very close friends. A memorial service will take place at First United Methodist Church Oak Harbor at a later date as well as a Celebration of Joyce's life in the summer of 2021.
Arrangements are entrusted to Wallin Funeral Home, Oak Harbor. Please visit Joyce's page in our Book of Memories online at www.wallinfuneralhome.com to share memories and leave condolences.