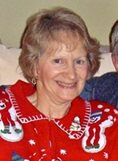 Julie Anne Engstrom
October 11, 1946 — June 8, 2022
Julie Anne Engstrom passed away June 8, 2022, in Coupeville, Washington, from
complications of Parkinson's disease. She was 75 years old. Julie was born Oct. 11, 1946, in Kirkland, Wash., to Cecil and Gwendolyn Engstrom.
Julie was a life-long resident of western Washington state, growing up in Kirkland
alongside her oldest sister, Sharon, and older brother, Kerry. After graduating from Lake Washington High School, she began working as a customer service agent for American Airlines, but did not like living across the country and soon returned home to work for Alaska Airlines at Sea-Tac airport for the entirety of her 35-year career.
Julie was an avid traveler to multiple countries around the world while working for
Alaska Air. She traveled extensively throughout Europe, often on skiing trips, as well as throughout Asia, the Philippines, Mexico, Malaysia, the Caribbean and New Zealand.
The closest she had to children was her West Highland White Terrier, Kelly, who she
had from his puppyhood in 1970 through his long life until 1988, and her sister
Sharon's daughter, her niece Dorene, who Julie doted on, visiting regularly to Kodiak,
Alaska and bringing dolls from her travels around the world.
Julie married husband, Joseph Mottern, of St. Mary's, Idaho, in 1991. They lived in
Tacoma for 10 years, until buying property in 2005 in Coupeville on Whidbey Island,
where they built a home with a beautiful ocean view of Puget Sound. Julie and Joe
retired and enjoyed many years of travel and cruises to Europe, Africa, Russia, the
Middle East, and Thailand. They loved to take driving trips throughout Washington and Idaho in their 5th-wheel camper, and to fly to Alaska and Hawaii to visit family.
In the early 2000s, Julie was diagnosed with breast cancer, which she beat through surgery and cancer treatments, but the experience made her sensitive and devoted to the needs of fellow female cancer survivors. She volunteered for the American Cancer Society on Whidbey Island and at Providence Regional hospital in Everett for over a decade.
In 2006, Julie joined the North Puget Sound Dragon Boat Club of Whidbey Island and as a member of the women's club, was a paddler and caller— loving every minute of weekly practices and monthly races— until 2016, when Parkinson's began to affect her balance.
Julie is survived by her husband of 31 years, Joe Mottern; her sister and best friend, Sharon Simpler ,of Waikoloa, Hawaii; her brother, Kerry "Skip" Engstrom of Port Angeles, Wash.; her brother-in-law, Robert Simpler; sister-in-law, Claudia Engstrom; beloved niece, Dorene O'Brien, of Anchorage, Alaska; oldest niece, Tracey Engstrom of Chelsea, Ala.; niece, Randi Skorcz, of St. Louis, Mo.; niece, Janell Yanefski, of Seattle; nephew, Jason Engstrom, of Fayetteville, Ark.; and nephew, Benjamin Simpler, of Cordova, Alaska; as well as by beloved adopted cat, Butternut, who now sleeps by Joe's side.
Julie was deeply loved by the family she was closest to, adored and enjoyed by the longtime friends, colleagues, and dragon boat teammates she forged bonds with, and profoundly appreciated by the multitude of cancer survivors she assisted and supported during her years of volunteer service. She is already missed, and forever in our hearts.
Family and friends are encouraged to share memories and condolences at www.whidbeymemorial.com.