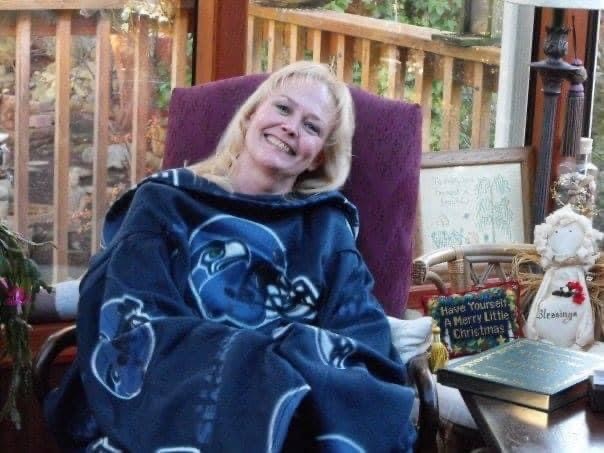 Kimberly Lee Kemp-Mason
March 24, 1957 — September 12, 2021
Kimberly Lee Kemp-Mason, age 64, passed away unexpectedly Sept. 12, 2021, at Providence Hospital in Everett, shortly after being diagnosed with metastatic pancreatic cancer.
Kim was one of five siblings in a military family, being born at NAS Whidbey Hospital in Oak Harbor, March 24, 1957. Growing up, her father's naval career would take the family to California, Virginia, New Jersey, Italy and England and all points in between.
She would eventually return to Oak Harbor to become Oak Harbor High School's Homecoming Queen. Kim cultivated a deep love of singing with the Oak Harbor Madrigal Choir while in high school. She also mastered the art of sewing. Her innate craftmanship abilities, coupled with a compulsion toward precision and perfection made her an ideal candidate for the field of dentistry and she became a highly adept dental assistant in the University District of Seattle, Wash., following high school graduation.
Life would eventually carry Kim to California, where she would become reunited with her love of sewing and hone her gift for fashion design. She soon became a fashion designer for the Wet Seal line of clothing. Kim made her way back to Oak Harbor and developed a new love of auto interior refurbishing and opened her own business, "Kim's Auto Upholstery." Kim's masterful and meticulous attention to detail and design won her much local acclaim and contributed to multiple "trophy winning vehicles." Kim's family members and friends were such proud recipients always of her lovingly created original sewing projects.
Kim will always be remembered for her creative gift of sewing, her razor-sharp wit, her beautiful smile, her "cackling laughter" and her loyalty and devotion toward her friends. (Some may also remember her for her love of funny emails showcasing her "unique and expressive use of punctuation.")
Kim was preceded in death by her husband, Stuart Mason; her brother, Gene Kemp, SMSgt, USAF; her sister, Deborah Kemp; and her father, E. Duane Kemp, CDR. USN Ret. She is survived in her immediate family by her sister, Daryl Kemp-Hicks (husband, Jason); her sister, Connie Kemp; and her mother, Geraldine (Gerri) Kemp.