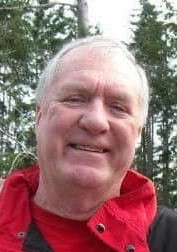 Larrie Leon Ford
June 13, 1942 — July 13, 2020
It saddens us to announce the passing of our beloved father Larrie Leon Ford Monday, July 13, 2020 in Coupeville, Wash.
Larrie was born June 13, 1942 in Wapato, Wash., to parents Clifton Ford and Majorie Shinaberger. Larrie grew up in Camas, Wash., riding his beloved horse, Chico. He competed in bull riding, bareback riding and tie-down roping on the rodeo circuit, winning many trophies and ribbons. While in high school, Larrie held several Washington state track and field records that he was very proud of, many of which stood for over 50 years. In 1962, he enlisted in the U.S. Navy as an Aviation Ordnanceman (IYAOYAS), where hard work and dedication helped him rise through the ranks. He served his country with pride from the shores of Vietnam to N.A.S. Whidbey Island, where he spent most of his Naval career. He retired in 1982.
On Aug. 4, 1977, Larrie married the love of his life, Janice L. Wilson. Jan called him her "Knight in Shining Armor." They had a wonderful 30-year marriage, full of adventures while raising six children. Larrie enjoyed many years as a coach and advisor for Coupeville High School's athletic program. He was a competitive shooter and served as president of the Central Whidbey Sportsman Association. He loved fishing and could be found at his "secret spot" on Cranberry Lake with his family and devoted dog, Barkley. Dad kept busy as a member of the Oak Harbor Yacht Club, Veterans of Foreign Wars organization, the Moose Lodge and Coupeville Booster Club. Larrie was preceded in death by his brother, Denny; sister, Nola Ford Restorff; and his beloved wife, Jan. When Jan passed, he gave her half of his heart to hold onto until he could be with her again. He is survived by his son James and wife Frances; daughter Deanna; son David and wife Barbi; daughter Tina; son Tony and wife Kara; son Eric and wife Holly; along with his nine grandchildren and six great-grandchildren.
A private service with full military honors will be held to celebrate Larrie's life. In memory of Larrie Ford and to continue his support to the youth of our community, in lieu of flowers, donations can be made to the Coupeville Booster Club, PO Box 452, Coupeville, WA, 98239. The family is especially grateful to all that have reached out and shared their love and stories of our father. Like all great men, he made all of us a little better for having known him.
To sign his online guest book please visit www.wallinfuneralhome.com.