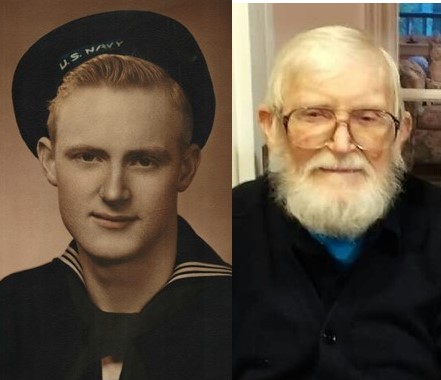 Leif Andreas Pedersen
— March 29, 2019
Leif Andreas Pedersen, ATC/USN RET, aka "Pete," "K7OH," "the Pater," and "Poppa Pete," 95 years young, became SK- "Silent Key," taking the long path into the sunset at 0158, March 29, 2019. Pete was surrounded by family at his passing in his home of 57 years, following a brief illness for an untreatable heart condition over 20 years in the making.
Pete's wife of 55 years, Betty Grace (Senecal) Pedersen, N7GSG, pre-deceased him, as did his parents, Thomas P. and Olava K. (Kristiansen) Pedersen. The youngest of four, two of his three siblings and their spouses, eldest sister Esther D. (Charles) Stowell and Floyd W. (Stella) Pedersen pre-deceased him, as did brother-in-law J. Paul King.
Pete is survived by his sister, Bertha M. King, aka "Aunt Sis," 105 years old this past Easter; his and Betty Grace's children, Christy A. McLaughlin (Robert), Eric S. Pedersen (E. Louise), Lisa L. Grosso (Alex J. Jr.), Bruce A. Pedersen (Mei); 10 grandchildren: Jenette R. Roberts (Mark), Celeste D. Alvarez (John David), Shannon E. Bustamante (Jose), MAJ Joseph M. Pedersen, U.S. Army (Ashley), Vita M. Shook (Jeff), Belladonna Pedersen, Lt. Col. Aasta R. Pedersen, U.S. Air Force, Leif Eric Pedersen, Alex J. Grosso, III and Peter Andreas Grosso (Brittany); 10 great-grandchildren and numerous nieces and nephews.
Born October 8, 1923 in Sandnes-Stavanger, Norway, Pete's parents were previous immigrants to the USA, who met and married there, gaining their citizenship. After several years, they and their three children traveled back to the old country to establish a farm implement business, where Pete was born. When Pete was just shy of two years old, with the onset of WWI and iron for implements hard to come by, his parents closed the business and moved back to the USA. They resided in various locations in the Syracuse, New York area during the war and Depression.
Pete graduated from Blodgett Vocational High School mid-year at 17. Employment was difficult to find and though he wanted to join the U.S. Navy, he could not meet the dental requirements. So, Pete joined President Roosevelt's Civilian Conservation Corps (CCC), a public work relief program operating from 1933 to 1942 intended for unemployed, unmarried men ages 18-25. The CCCs had a traveling dentist and Pete soon had his dental issues temporarily resolved. Pete then joined the Navy in 1940. While in boot camp, Pete finished the "Lifesaver Swim Test," to complete his qualifications and was awarded the rank of Eagle, Boy Scout, while home on boot leave prior to his 18th birthday.
Pete was then temporarily assigned to the USS Manley (DD-74) an older WWI destroyer still in action. His orders were to meet up and transfer to the USS WASP (CV-7) near the Caribbean, which had instructions to sail for the Pacific theater after the attack on Pearl Harbor. By treaty, the 1940 commissioned USS WASP was a smaller version of the Yorktown Class Aircraft Carriers. On Sept. 15, 1942, the USS WASP was sunk by three torpedoes fired by a Japanese submarine. At 19, Pete, her crew and officers abandoned ship and were forced into the South Pacific Ocean near the Salomon Islands, where 193 sailors died and 366 were wounded. Pete was one of 1,946 aboard the USS WASP, squadron and ship's company, who abandoned ship to tread water with the South Pacific sharks until rescued by several other U.S. Naval Ships in the area. Pete would tell his children that you never really learn to swim until you hear someone yell, "Shark!"
Following 30 days survivors leave, Pete was reassigned to instruct low level Seaplane (PBY) bombing at NAS Whidbey Island over Lake Hancock, located across from the Greenbank Farm. His first assignment to the island, Pete, was struck by the terrain, similar to that in upstate New York and Norway, his country of birth.
In 1945, Pete met Betty Grace in Banana River, Fla., when they both went to a social event with other dates. Betty Grace had enlisted as a WAVE (Women Accepted for Voluntary Enlistment) during the war and was also working in the communications field as a phone operator. Since they seemed to have a lot in common, they exchanged addresses and wrote to each other over the course of three years, with three dates in that time. After completing her military service, Betty Grace was living in Los Angeles and was on her way back home to her hometown of Blawnox, a suburb in the Pittsburgh, Pa., area. Pete was supporting a military flight from San Diego, Calif., to Hawaii, where his squadron was located then, at NAS Kaneohe. They decided to meet for a third date, and on a fateful Sunday morning, Betty Grace was sitting on Pete's lap reading the Sunday comics together when Pete proposed, "Guess we should get married." To which Betty Grace replied, "Is that all there is?" Pete then said, "What do you want me to do, jump up and down in the snow?" After hearing this story over the years, we often would repeat this response to each other when faced with incredulous situations – a now infamous family line. Ultimately, Pete bought a diamond when back in Honolulu, sent it back to Betty Grace's dad, who had it put into a ring. Pete then called and made a proper proposal while Betty Grace's dad put the ring on her finger. The two eventually eloped and were married Nov. 12, 1948, just outside of Chicago, in Glenview, Ill.
Over the years, Pete was assigned to different squadrons at various NAS locations in the USA, where each of his and Betty Grace's children were born. He was often deployed on carriers and brought home many remembrances of the culture of the lands he visited. He and his family returned to NAS Whidbey for duty in 1956, living first outside the Langley Gate in Title 8, what is now called Whidbey Apartments. Two years before retirement from the Navy in 1960, Pete transferred to NAS Whidbey for a third time, the family first living in Quonset huts and then as one of the first families in what is now military Capehart housing. As a USN Aviation Radioman, Pete went on to serve to the end of WWII and Korea. He made a 22-year career in the U.S. Navy, retiring as an ATC, Chief Petty Officer. He received numerous citations and awards during his service, including four awards of the Air Medal and the Distinguished Flying Cross.
On his retirement from the Navy in 1962, Pete and Betty bought a 40-acre spread outside the Oak Harbor city limits in the West Beach area, raising their four children, all graduates of Oak Harbor High School. After Betty Grace's death in 2003 from complications of Parkinson's Disease, Pete continued to live independently there "on the farm" until his death.
To remain in the local area after military retirement, Pete took many different jobs, including electrical installation and marine radio repair and even worked a time for West Side Auto Rebuild as a body sander. Within a few years, Pete was hired as one of the first Civil Service workers as an electronics technician at the opening of the NAS Whidbey Calibration Lab. He worked there until his retirement in 1978 on his 55th birthday.
In the ensuring 40 years, Pete and Betty Grace enjoyed driving trips around the country every other year, visiting family, friends and shipmates. For a time, they had a few cows and there was always a garden. Eventually they added apple trees and Pete even tried his hand at splicing. He put a pear with an apple and said what resulted was "hard as hell" and not edible!
Pete was known to design and make what he needed, and as with others raised during the Depression, everything was saved!
Most memorable of all is Pete's dry sense of humor. He was keen on word play, and next to this penchant for ham radio, he could often be found completing crossword puzzles or playing solitaire.
Tom Brokaw wrote the book titled, "The Greatest Generation," about the special heroes of WWII, and Pete was one of the few WWII veterans who were still contributing well into his 90s. For many years, these WWII heroes and their radio training have been the backbone of Amateur Radio. Pete earned his Ham License in 1947 and was actively "on the air" ever since. His "ham shack" was relocated from an outbuilding to a room in the house, where he designed and built his own gear. He has inspired many of the boomer generation and beyond to continue in his footsteps, among them his son-in-law, Alex (K7WI). A few years back, Pete received his 40-year membership pin from the American Radio Relay League (ARRL).
A Celebration of Life Memorial was held for Pete at Wallin's Funeral Home and Cremation, Oak Harbor, immediately followed there by a cookie reception – Pete had a serious sweet tooth!
In lieu of flowers, the family would like any monetary donations/remembrances for Pete made to the WhidbeyHealth Foundation, P.O. Box 641, Coupeville, WA 98239, for a Memorial Leaf in the hospital or for the hospice care that he received in his last days, which allowed him to remain in his home to the end.
Please indicate that the donation/remembrances are for L. A. Pedersen, and donors may choose to also note the Memorial Leaf or hospice, or leave blank and it will go to one or the other, since the Foundation oversees both.
Pete's children and their families extend grateful thanks to the many friends, neighbors and ham radio colleagues who dropped in on Pete and Betty Grace over the years, especially these past 16 years with Betty Grace gone. It is that spirit of community they both loved and it is what drew them to enjoy and live out their days on Whidbey Island.
Arrangements have been entrusted to Wallin Funeral Home, Oak Harbor, WA. Please visit Leif's page in the Book of Memories online at www.wallinfuneralhome.com to share memories and leave condolences.