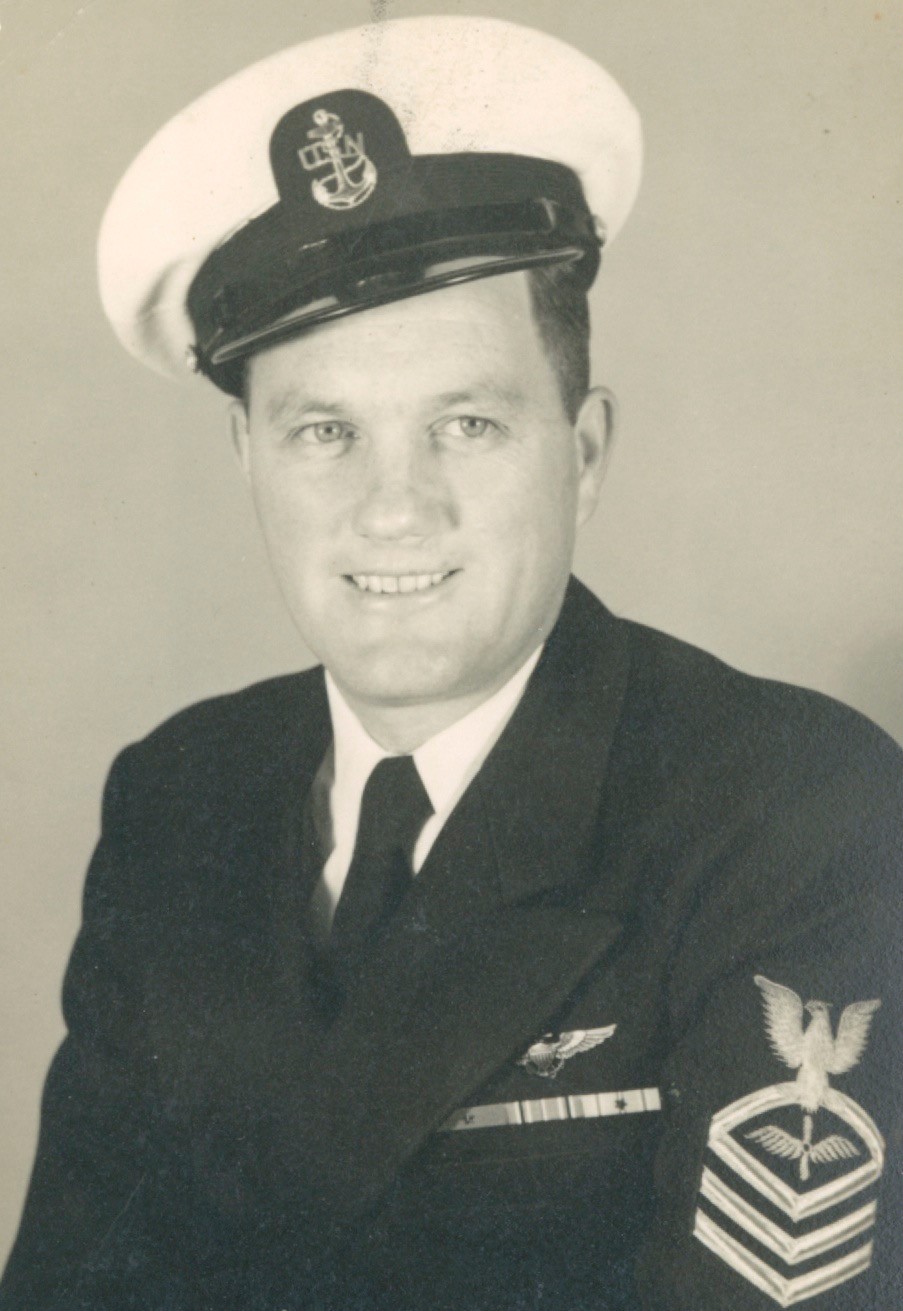 Leroy "John" Hennrich
February 27, 1920 — July 1, 2019
Leroy "John"Hennrich, 99, passed away July 1, 2019 at the family home on Whidbey Island.
The seventh of Charles and Hattie Hennrich's eight children, John was born on the family farm near Doe Run, Mo., February 27, 1920. He enlisted in the Navy in 1939 and was stationed on Ford Island during the December 7, 1941 attack on Pearl Harbor. Following the attack, John was selected for flight school and in 1943, his boyhood dream was realized when he became an enlisted Navy pilot. In the course of his career, he held a commercial pilot's license and was instrument rated for single and multi-engine land aircraft, sea aircraft, and helicopters.
While stationed at NAS Whidbey in 1950, John met and married the love of his life, Mary Francis Mahoney. After John retired from the Navy in 1959 as a Chief Petty Officer Aviation Pilot, he, Mary and their five-year-old daughter, Mary Ellen, returned to Whidbey.
In 1961, John and Mary welcomed a second daughter, Lisa. They built their forever home, with a view of Mt. Baker, in 1966 and a few years later, planted the first of thousands of Christmas trees for their U-cut farm. The Hennrich Tree farm still operates today, owned and managed by Lisa and her husband, Skip Boyer.
For many years, John worked at Anacortes Veneer until retiring in 1987 when he and Mary became snow birds, wintering in Queen Valley, Ariz., until Mary's death in 1995. In 1996, he married Twila "Jo"Proffitt, also of Queen Valley. Jo was his faithful companion until her death in 2010.
For the next seven years, John lived in Portland, Ore., with Mary Ellen and her husband, Tod, and was an active member of the Salvation Army Rose Center for Seniors. In 2017 they moved back to John's home on Whidbey and began wintering in Phoenix, Ariz.
John's love for the beauty of God's creation was inspiring. On a walk, drive or flight he always commented on the beautiful scenery around him. A man of quiet faith, he knew God's angels were always watching over him. His quick smile, warm and friendly personality and kind heart endeared him to all. He never knew a stranger. Terrific on the dance floor and an avid fisherman, he also enjoyed music, reading, golf, playing pool, watching westerns and nature programs and working on puzzles.
Son-in-laws Tod Rosinbum and Skip Boyer were true sons to John that he loved as his own. He was especially proud of his three grandsons and their wives: Joel and Elisabeth Rosinbum, Tim and Katy Rosinbum and John and Heather Rosinbum. His five great-grandchildren, Micah, Oliver, Lilliana, Josiah and Asher Rosinbum, were the joy and delight of his final years.
Our family is grateful to the Rose Center for the support and joy they brought to John's life as he went on dozens of trips all over Oregon and Southwest Washington and shared in many lunches and activities. In lieu of flowers, please consider a donation to the Salvation Army Rose Center for Seniors. Instructions below:
Check made out to: "The Rose Center," with memo line reading John Hennrich memorial gift. Mailing address: Salvation Army, 8495 SE Monterey Ave., Happy Valley, OR 97086.
A memorial service with reception for John will be held on Monday, July 15, at 1 p.m. at Wallin Funeral Home.
To leave a message on John's online guestbook, please visitwww.wallinfuneralhome.com