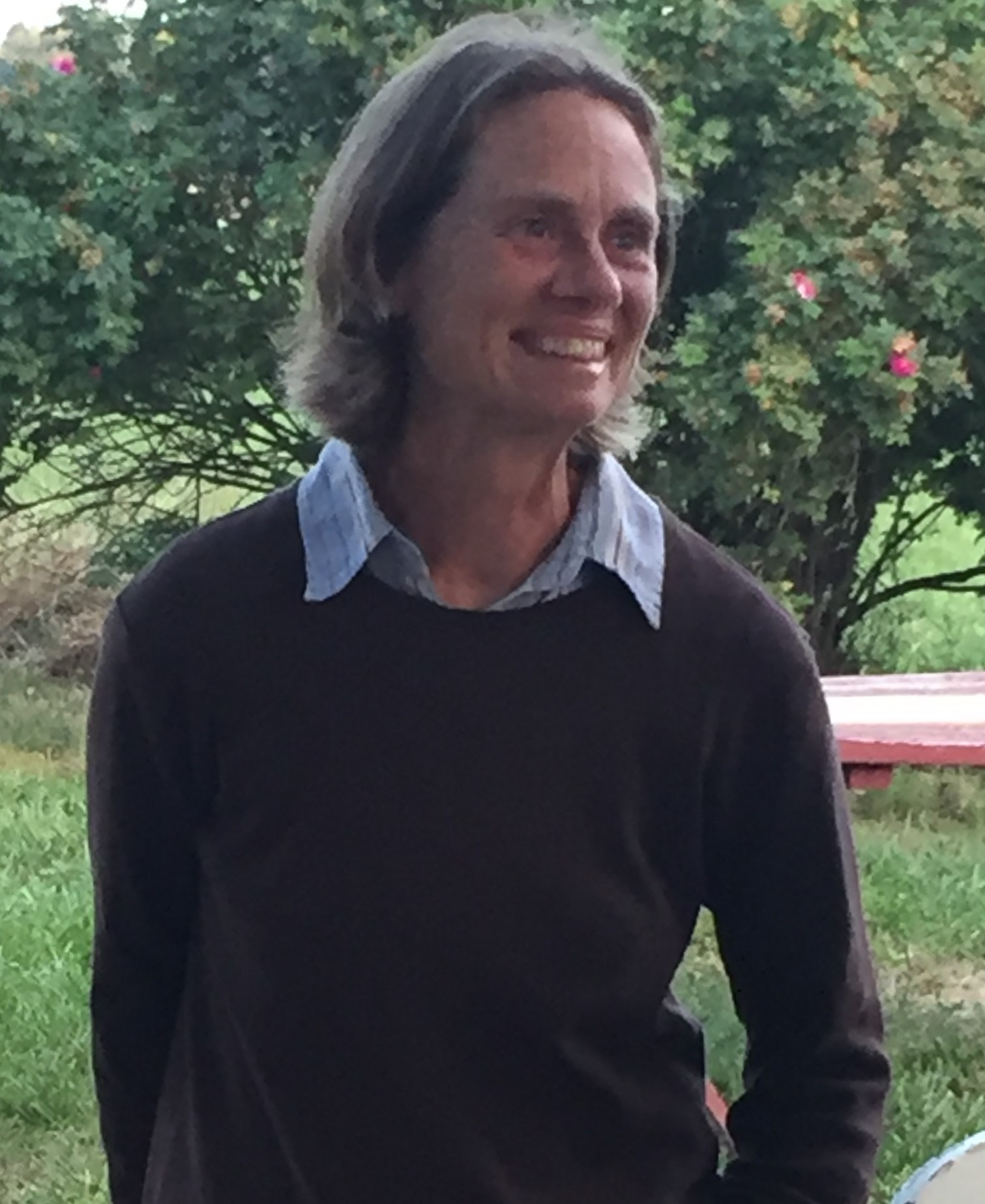 Linda Bartlett
— November 26, 2019
Linda Bartlett (1960-2019) always dared to follow her dreams, dreams that brought her to the soils of Coupeville, where for the last 20 years, she nurtured and grew beautiful food, strong community, and the next generation of organic farmers at Rosehip Farm.
In 1990, Linda left the world of real estate banking in Portland, Maine to follow the spark of her adventurous spirit which longed to make the world a better place. She sold her belongings, loaded her dog, Angus, into her red Dodge convertible and with a friend and her cat, spent three months traversing the country. They woke to buffalo in their campsite in the Badlands, navigated the Going-to-the-Sun Road in Glacier and were awestruck by the blinding beauty of Banff and Jasper.
Linda landed in Seattle, where she promptly fell in love with the girl next door, Valerie Reuther. Over 28 years, Linda and Valerie worked for social change, danced in Seattle clubs and PT honky-tonks, and built a farm and a family/community. They were finally married in 2015 on the first day of spring at their farmhouse.
Linda was an urban dweller and master composter when she decided she wanted to farm and embarked on an organic farm internship with Blue Heron Farm in the Skagit Valley in 1996. Linda's vision prompted her and Valerie to buy and develop Rosehip Farm & Garden into one of the first organic vegetable farms in central Whidbey.
With her sassy humor, welcoming smile, and passion and determination outsized for her petite body, Linda built Rosehip's reputation for being a place where people could come to connect to the earth, find delicious produce, join in a dance party or cider pressing, and share a meal and a long laugh.
Over the past two decades, Rosehip has been home to dozens of young and aspiring farmers who learned from Farmer Linda how to start seedlings, prep a bed for planting, clean tools at the end of the day, pick the peas at the right time, and farm with no chemicals and little fossil fuel. Most importantly, Linda cultivated in these young farmers, mostly women, the confidence to trust in their own strength and wisdom, and like Linda, to follow their hearts. Linda earned the description of "the perfect mix of salt of the earth farmer girl and mischievous pixie with a glint in her eye; a firecracker full of vigor and beauty; and an amazing caretaker of plants, pets, people and friends."
Linda was also active in building her Coupeville community. She served as treasurer of the Coupeville Farmers Market, where she helped triple the size of the market. For 10 years, she was the architect and lead organizer of the Harvest Relay Races that raised $100,000 for the local foodbank.
From her roots in Augusta and Hollowell, Maine, Linda was the daredevil in the family, careening down her long, steep driveway standing on the back step of her tricycle. At 3, she and her friend Sammy escaped the yard with a handful of pennies, walked a mile to town for ice cream and were found playing on the boats along the river. That same independence followed her through high school basketball, college in the most northern part of Maine, where she earned a degree in PE, and then to Portland, Maine, where she lived before moving west.
Ever true to her heart, Linda died at home in Coupeville on Nov. 26. She is survived by her wife, Valerie; her mother, Donna Bartlett; two sisters, Pam Cullen and Karen Bartlett; her nephews Ryan and Cory Daniels and their children; and the Rosehip family of young women and men she mentored through her seasons on the farm, and their young children.
With joy for having her in our lives and sadness for saying goodbye, we send Linda on her next wonderous adventure. In lieu of flowers and cards, Linda requested gifts to Coupeville Farm to School. A celebration of Linda's life will follow in early Spring.
Family and friends are encouraged to share memories and condolences at www.whidbeymemorial.com.