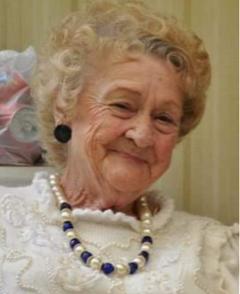 LuDene Gerhauser
February 24, 1933 — May 22, 2019
LuDene Gerhauser, daughter of Robert and Adeline Simpson, born February 24, 1933, passed away peacefully at the age of 86 on May 22, 2019, in her home with her daughter and daughter-in-law by her side.
She is proceeded in death by her parents, two brothers and four of her children: Linda Blodgett, Clifford Smith, Danny Blodgett, and David Gerhauser. She is survived by son, Bill Blodgett, daughter, FloyDene VanVelkinburgh, 15 grandchildren, 21 great-grandchildren and one great-great-grandchild.
LuDene lived her life to the fullest. She was a culinary arts instructor for Job Corps and will be always remembered for her love of cooking and baking. She had a fun, quirky sense of humor, loved music and singing and dancing throughout her home. The babies in her life always brought a special smile to her face. LuDene will be greatly missed by her friends and family.
There will be a visitation and reception on Friday, May 31, from 5 to 8 p.m. at Whidbey Memorial Funeral Home. A Funeral Service will be held at 11 a.m. Saturday, June 1 at the Church of Jesus Christ of Latter-Day Saints, 201 NE O'Leary St, Oak Harbor. Interment will follow at Sunnyside Cemetery.
Family and friends are encouraged to share memories and condolences at www.whidbeymemorial.com.