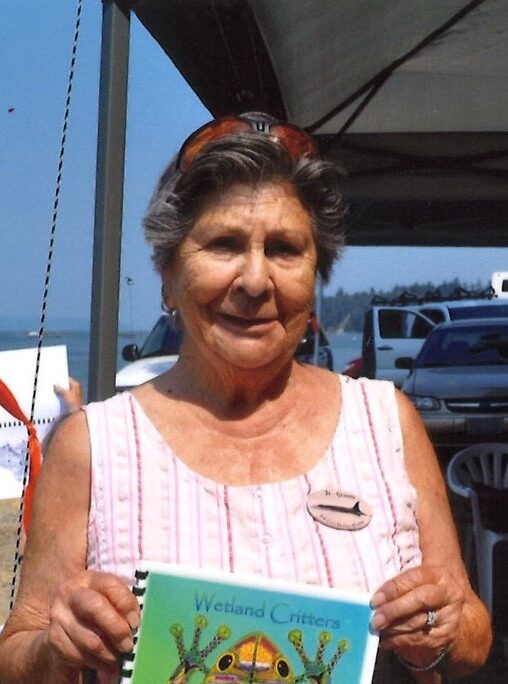 Lyla Maxine Libbey Snover
February 22, 1934 — May 3, 2021
Lyla, who was born to Joseph Libbey and Ethel Hancock Libbey Feb. 22, 1934, passed away peacefully at home surrounded by family May 3, 2021. She was active and busy as always to the end, spending her last day painting in her shop.
Lyla was a beloved daughter of two of the earliest pioneer families to settle on Whidbey Island: the Hancocks and the Libbeys. She grew up on Whidbey, graduating from Coupeville High School in the class of 1952. She met Phil at the age of 13, and they later married in Ellensburg, Wash., Oct. 3, 1952. The two moved around with the Army for several years before returning to Coupeville to raise their children: Gail Hilkey, Debra Lester, Tonya Silvia, and Roger Snover.
Lyla worked at many jobs, including Christensen's Drug Store in Coupeville and later at the Oak Harbor Post Office, where she retired in 1982. Phil and Lyla built the Burgerhaus in Coupeville in 1966, where they operated it with their three girls before selling the business in 1972.
Lyla was a real hero and won an award and $500 for saving the life of a drowning teen at the ferry dock in Coupeville. Lyla loved her community and after her retirement spent many hours volunteering and serving on various boards and committees. She was a part of Coupeville's town council, Island Transit, Beach Watchers, Coupeville Arts and Crafts Festival, the Coupeville Water Festival, and so much more.
She was well known for the snowmen seen around Coupeville during the holidays, which Phil would cutout and she would paint. The paint crew within the Snover's shop grew as the snowmen became more popular, and then expanded to include making scarecrows, and other holiday cutouts.
Lyla was an incredible storyteller and entertained many with her endless stories about her years growing up on Whidbey. She knew a lot of the history of Coupeville and its earliest settlers. Some of her stories are published in various books written about Whidbey Island.
She was preceded in death by her husband Phil and son Roger. Lyla is survived by her daughters Gail, Debbie, and Tonya, as well as seven grandchildren, 13 great-grandchildren, her sister Marilyn Bailey, and numerous nieces and nephews.
There will be no services per Lyla's request. The Snover family suggests donations can be made to Children's Orthopedic Hospital in remembrance of Roger. To help us celebrate our mother's life, please visit www.wallinfuneralhome.com to leave your comments and photos.
Arrangements entrusted to Wallin-Stucky Funeral, Home, Oak Harbor, Wash.