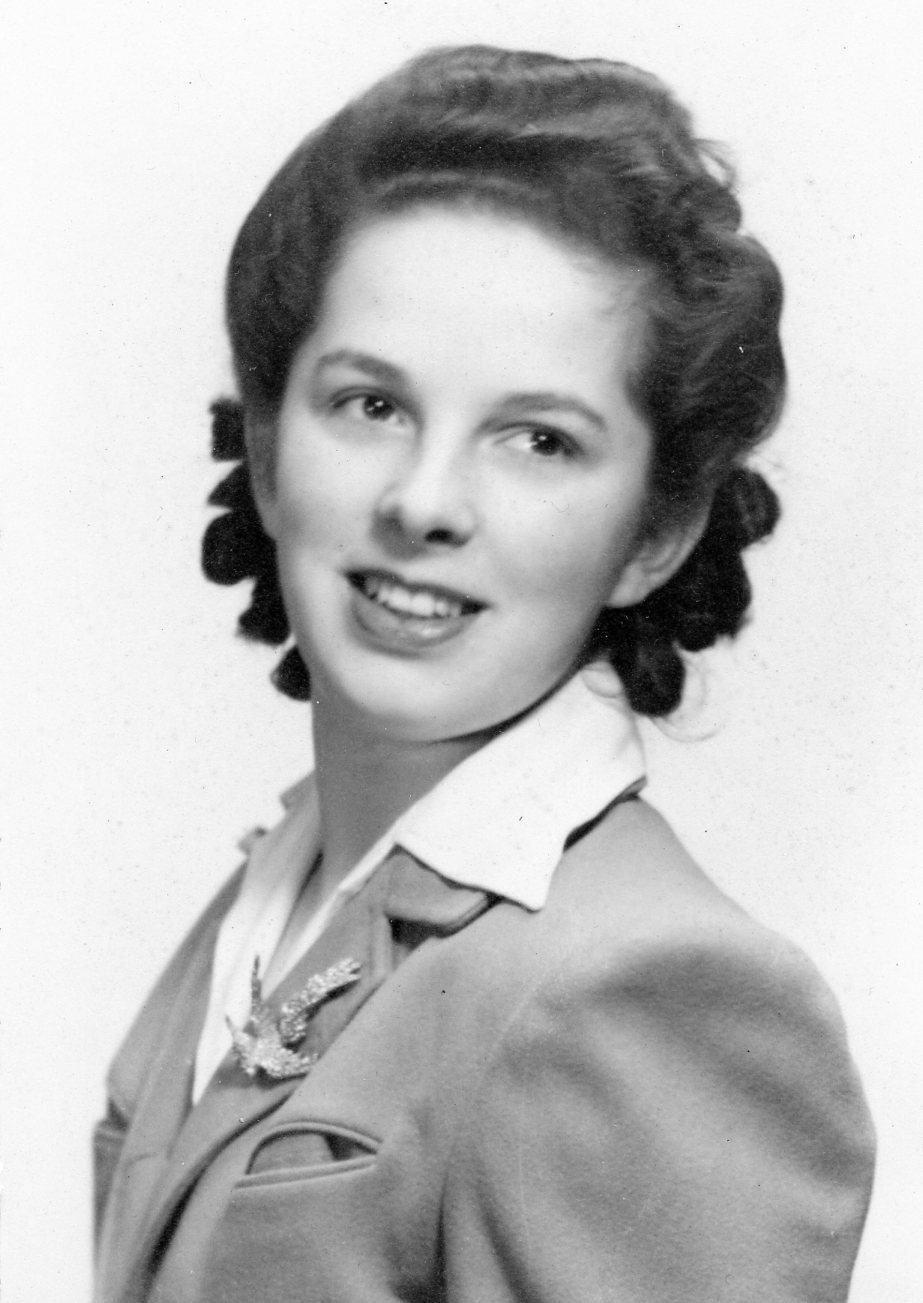 Margaret Leona Wahlgren
December 27, 1926 — April 8, 2020
Margaret Wahlgren (Marge) went to Heaven April 8, 2020 just before Easter Sunday. She passed away peacefully of natural causes at age 93. She was a member of the Greatest Generation, and a child of the Great Depression and World War II. Here is her story and legacy.
Marge was born in McCleary, Wash., (near Elma) Dec. 27, 1926, to parents Norman and Peggy Fuller. She was raised on the banks of Hood Canal at Brinnon and attended elementary school. Norman was a logger, running a steam donkey, and Peggy drove to work in nearby Quilcene across Mt. Walker pass, which was often covered with ice and snow. Times were very tough during the Depression, but the family took advantage of the rich harvest of clams, oysters, and salmon on Hood Canal to put meals on the table. Marge often went with her dad and mom to Norman's family's farm near McCleary, to help milk the cows, feed the cattle and chickens, hay the fields, and make homemade doughnuts with her Grandma Fuller.
In the 1940s, the Fullers moved to Forks because of better logging opportunities. With the outbreak of WWII, Norman logged as part of the Spruce Division, which supplied wood for fuselages of airplanes in the war effort. Marge went to school in Forks and excelled academically, and graduated from Quillayute Union High School (now Forks High).
Marge was a self-confessed "daddy's girl," although one memorable time Norman tried to teach her not to slam the front door. He made Marge open and close the door 100 times as a lesson. But on the very last time, she smiled and slammed the door! Her strong will and sense of humor remained a constant throughout her life.
Marge was very close to her little brother, Gene, and they often rode bikes around Forks and enjoyed going to the local rivers and beaches at Rialto and La Push. Tragically, Gene drowned in the Bogachiel River when he was just a young teen, and the Fuller family was devastated.
During WWII, Marge frequently volunteered for watch duty in the lookout towers on the Olympic Peninsula, vigilantly observing the skies for potential aerial attacks on the west coast. Her thoughts often turned to a special next door neighbor in Forks, a handsome and athletic young boy she had a crush on from high school and who now was a U.S. Army combat soldier in the famous Big Red One Division, fighting Nazis at the famous Battle of the Bulge.
After the war, Marge decided to go to Seattle University, but later returned to Forks due to financial hardships. This experience ingrained in her an uncompromising will that her own children would not only attend college, but graduate, no matter what.
Now back in Forks and working as a secretary for the local Ford dealership, she often went into Port Angeles for movies with girlfriends, and it was on one of these adventures she ran into Richard Wahlgren at the LA Poel Resort and Store at Lake Crescent, who had recently returned home from the war in Europe. Richard made the smart choice and rode back to Forks with the girls instead of his buddies.
Marge and Richard were married April 20, 1946, and honeymooned at the Empress Hotel in Victoria. Shortly after, they moved to Bellingham for Richard to attend Western Washington University, and later had their first child, a baby girl named Cheryl. Richard eventually transferred to the University of Washington, where he studied engineering.
After two years in college, Marge and Richard moved back to Forks to begin Richard's career as a surveying engineer for Rayonier, Inc., surveying timber boundaries and locating logging roads, a job he would hold for 30 years. Marge and Richard then welcomed another baby into the family in 1949, Richard (Rick) Wahlgren. So, the future in Forks was set. Marge was a proud mother and homemaker, and Richard began his career in the timber industry.
During the early 50s, Marge was given the special honor to christen a newly built 45-foot commercial fishing trawler being launched at La Push that her father Norman built in his backyard in Forks. It was proudly named "Cheryl" and was one of the most beautiful and successful salmon fishing boats in the La Push and Port Angeles harbors. Marge and Richard frequently enjoyed salmon and tuna fishing trips aboard the Cheryl on west coast waters.
Marge's family loved and thrived in the beauty and freedom the greater Forks area offered, with frequent picnics at Rialto Beach, walking the trails of the Hoh Rain Forest, swimming at Sol Duc Hot Springs, fishing for salmon and steelhead in the Sol Duc River, hunting pheasants in the crabapple thickets on the Quillayute Prairie, and camping at Lake Ozette. They traveled each summer to their version of Disneyland, the Fuller family farm in McCleary, to be with family and enjoy farm life and attended the Seattle World's Fair in 1962 and went up in the Space Needle.
One lasting contribution Marge and Richard made to the Forks community was helping to build the Congregational Church. After the church was completed, she made her most significant accomplishment as a mother, sending Cheryl and Rick to Vacation Bible School to learn a message that would last a lifetime: "Jesus Loves You."
Life was good in Forks in the early 1960s, but times were still tough economically, and hard work and being frugal was the norm. So, when Marge and Richard needed a larger house for their family, they made many sacrifices and built their dream home by themselves in Mansfield Addition over a three-year period. It was an arduous and daunting task, but when finished, the house was completely paid for.
Marge worked diligently landscaping the property with rose gardens, flowering cherry trees, and dahlias. It was a labor of love. Inside the new home, she splurged on one item, a beautiful new white piano as the centerpiece of the living room. Cheryl excelled at playing the piano, while Marge also began to play. After many lessons and daily practices, the home was filled with the joyful sounds of Marge playing Clair de Lune, and Cheryl playing Rock Around the Clock.
One non-negotiable rule that Marge had for her children was that they graduate from college. That was the dream of the Greatest Generation, whose life ambitions were rudely interrupted by the Depression and WWII. So two of Marge's proudest moments were when Cheryl went to Western Washington and Rick went to the University of Washington. She later said that spending a day at the UW campus with Rick, attending classes and visiting his fraternity, was a highlight of her life.
Marge had many talents beyond house building and playing the piano. Her blackberry pies and cinnamon rolls were second to none, although she lovingly enforced a strict diet that kept Marge and Richard very healthy. She became a Master Rose Gardener and won many blue ribbons at the Clallam County Fair for her roses and flower arrangements. When elected secretary of the Bogachiel Garden Club, she had to learn word processing, and began an ongoing battle with technology on her new Apple computer. She delighted her grandkids when she bought a Nintendo and played Mario Brothers for countless hours of enjoyment and laughter.
Marge and Richard took many road trips together, including Yellowstone, Glacier National Park, and Disneyland. Marge made peanut butter sandwiches, applesauce cake, and they hit the road. They frequently traveled to Lynden to see Rick's family, celebrate the holidays, and watch Lynden basketball games. They were thrilled when Cheryl's family made visits to Forks and always had special activities planned for their grandkids.
In retirement, Marge often marveled how blessed and abundant her life had become after all the years of hard work. She traveled to Paris and went on a cruise to the Caribbean with girlfriends, attended Garden Club conferences and gift shows statewide, cruised around Forks and the Olympic Peninsula in her shiny red Cadillac, and shopped at Nordstrom's. She traveled to the Fuller farm in McCleary for yearly family reunions and drove over to Sekiu to enjoy Marge and Richard's vacation trailer and property overlooking the Straits of Juan de Fuca.
There were also tragedies that deeply saddened and impacted Marge's life. Her beautiful daughter, Cheryl, who became an outstanding elementary teacher and loving mother, passed away, and her beloved daughter-in-law Mary (Rick's wife of 44 years) passed away after an inspirational battle with cancer, but not before many years of providing love and care for Marge and Richard and always including them in family activities and celebrations.
In August of 2014, Marge lost the love of her life and best friend, Richard, at age 93. Within a couple of weeks after Richard's death, Marge suffered a severe stroke that compromised her abilities to speak and walk. Doctors said her future would only be in a nursing home.
But with much strength and courage, she went through rehab on Whidbey Island and was able to enjoy her last years at the beautiful Maple Ridge assisted living facility with her own apartment and be near Rick and family.
She treasured the many visits, cards, and letters from her friends from Forks, and by her Garden Club friends from all over the PNW. She loved spending Thanksgiving, Christmas, and Easter on Whidbey with her grandchildren. Always looking for adventure, she rode the Maple Ridge activity bus to see the tulips in Mount Vernon and rhododendrons on Whidbey, walking steadily with the aid of her walker. One of the highlights of each week and greatest enjoyments was reading the Forks Forum, and articles by editor Christi Baron.
During her time at Maple Ridge, Marge had one very special friend, Art McDonald, who was a mainstay reporter and journalist at KOMO TV in Seattle for years, interviewing presidents, Elvis, and even the Beatles. Marge and Art kept busy with local excursions, attending 4th of July parades, playing cards and games, and sharing their life adventures.
Marge's strong will, tempered by her experiences from the Great Depression and WWII, enabled her to live a long wonderful life of 93 years and show love, grace, and dignity until the very end.
Marge is survived by her son Rick and beloved daughter-in-law Judy Wahlgren (Whidbey Island); grandkids Carolyn Wahlgren McNeill (Stanwood), Dr. Christina Wahlgren Bolante (Pebble Beach, Calif.), Kyle Wahlgren (Tigard, Ore.), Carmen Wahlgren Holthaus (Birmingham, Mich.), Victoria Floe (Kenmore), Brian Floe (Packwood), Ericka Wendell Troberg (Grangeville, Idaho), Jodi Wendell Smith (Seattle), and Jennifer Wendell (Port Angeles).
The Wahlgren family would like to give special thanks to WhidbeyHealth Hospice Care nurse, Ericka, for her loving care, the staff at Maple Ridge, Pastor Warren Johnson of the Forks Congregational Church, Lori (McDonald) Erickson and dog Freddy, Gus Erickson, and Danny Wahlgren.
Memorial contributions can be made to the Forks Congregational Church, PO Box 266, Forks, WA 98331.
Due to the current coronavirus lockdown restrictions, a private burial service was held in Forks.