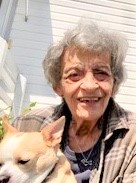 MaryAnn Guidry
October 1, 1938 — October 13, 2019
Following an extended illness, MaryAnn Guidry passed away in the comfort of her home, Sunday, Oct. 13, 2019, surrounded with love by her devoted family.
MaryAnn was born on Oct. 1, 1938, in New Orleans, La. Her son, Leon, and daughter-in-law, Nadine Guidry, brought her and his sister Lynn Guidry Brown up to Oak Harbor, Wash., to live following the loss of their family home during Hurricane Katrina in 2005. 
MaryAnn is survived by her son, Leon M. Guidry (Nadine), and daughte,r Lynn Guidry Brown, of Oak Harbor; step-granddaughter, Hannah Sullivan (Dallas), of Bellingham, Wash.; step-grandson, Wesley Berry (Kim), of Chula Vista, Calif.; great-grandchildren, Joseph and Madison Brown, and step -great-grandchildren, Hazen and Bailey Sullivan, Taelor Schmidt, Jacob, Alexander and Davis Berry; sisters-in-law, Audrey Nunez, Joyce Armstrong, Pearl Folse, and Margaret Guidry; as well as numerous nieces, nephews, and many special friends.
She was preceded in death by her husband of 36 years, Leon J. Guidry, in 1993; and her husband, Howard Gilmore, in 2007, the year of their marriage; her parents, Jules J. and Adelaide Nunez, and brothers, Herbert and E. J. Nunez.
The family would like to thank Hospice of the Northwest, particularly Alicia, Tiger, Sarah and Talon. Their caring is unmatched. Also, a special thank you to Fathers Paul, Bailey, and Jerry from St. Augustine Catholic Church; and to Dr. Bryan Murray and staff at Island Internal Medicine, Anacortes.
Memorials can be made in her name to the Hospice of the Northwest Foundation. Mail to 227 Freeway Drive, Suite A; Mount Vernon, WA 98273. Other ways to donate and donating online at:www.hospicenw.org/how-you-can-help/make-a-donation/
A Holy Burial is scheduled for Monday, Nov. 4, 2019, at 11 a.m. at Maple Leaf Cemetery, followed by a lunch gathering to be determined.
MaryAnn's final care has been entrusted to Wallin Funeral Home. A special thank you to Martha Wallin and staff for their assistance and care.
Please visit MaryAnn's page in our Book of Memories online at www.wallinfuneralhome.com to share memories and leave condolences.