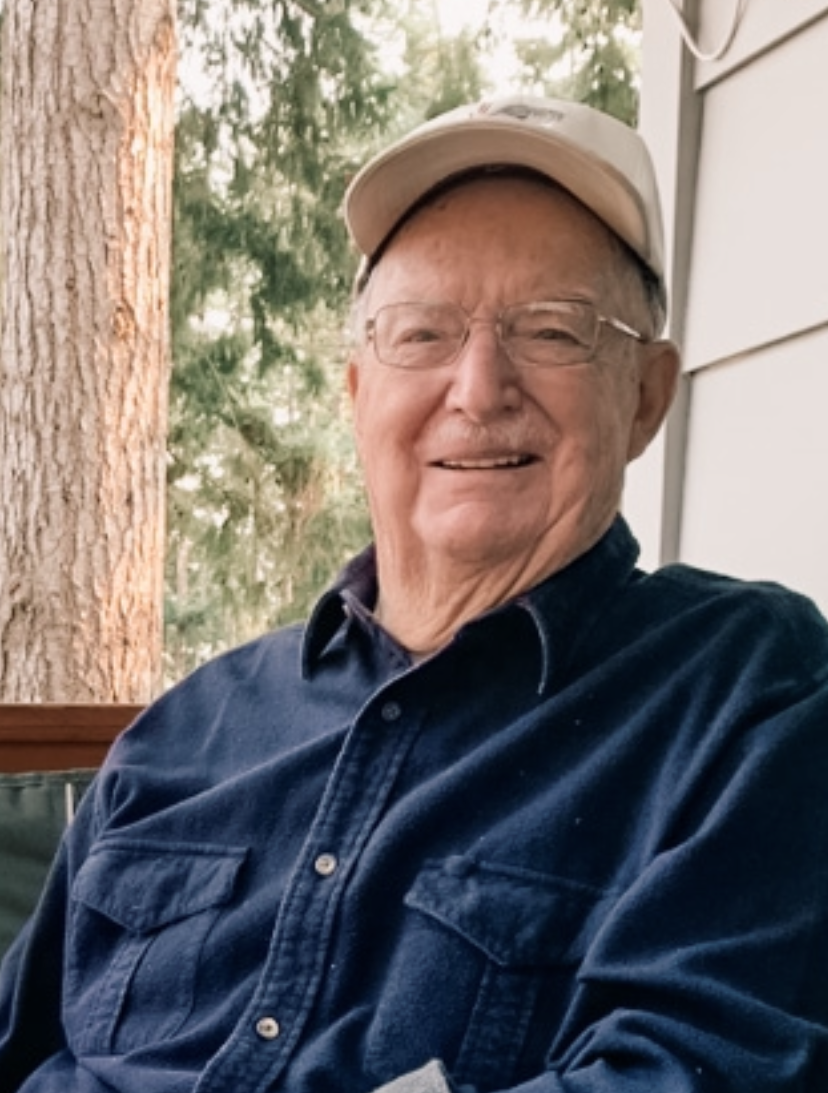 Maurice Eugene Lund
September 12, 1938 — July 31, 2021
Maurice Lund, longtime resident of Oak Harbor, passed away July 31, 2021, surrounded by his family at Rosario Assisted Living in Anacortes, following a long battle of several medical conditions.
Maurice was born in Vancouver BC Sept. 12, 1938.
Maurice came from a strong military background on both sides of his family. He carried on that legacy by enlisting in the Navy at the age of 17 April 4, 1956. He went to boot camp at RTC San Diego, Calif., followed by his next assignments with Gumgru Barbers Pt., Hawaii; Vp-2 NAS Whidbey Island, Wash.; NAS Alameda, Calif.; HC-1 San Diego; VX-1 Key West, Fla.; RVAH-6 Key West; NAS Pt. Mugu, Calif.; VAQ-138 NAS Whidbey Island; AIMD NAS Whidbey Island; and he retired as CMVWP NAS Whidbey Island, retiring Jan. 1, 1986 with 31 years of service.
His legacy carried on when two sons and a grandson followed him into service. Son James retired with 21 years in nuclear submarines and Mike completed 12 years in the Army in various helicopters before sustaining injuries that ended his career. Grandson Thomas served two years in the Army before his death in 2014. We are a very proud military family.
Maurice met his future wife, Phyllis Hogewoning, when visiting his parents while on leave after his first four years of service. After a courtship by mail, he proposed at Cranberry Lake at Deception Pass State Park. They married July 9, 1960, in Spokane and moved to Oak Harbor ,where he was attached to VP-2 at NAS Whidbey. Many deployments gave Phyllis a quick taste of Navy life. They started their family there with the birth of their first son, James.
The following years took them first to Alameda. No deployments but two more children, Keith and Sandy.
Then in 1966, he was a helicopter air crewman in HC-1 at NAS Ream Field. More deployments and lots of letter writing, numbering the letters because they didn't always arrive in the correct order. Mike was born there in 1966 during one of those deployments, met his dad six months later and Maurice left again before his first birthday. That's Navy life.
From there to the east coast, about as far as you can get from the Pacific Northwest to Key West, the southernmost point, for 8 1/2 years, starting with VX-1 then on to RVAH-6. It was then Phyllis was able to join him for a visit overseas, the only time in his career, for some R&R in Hong Kong. A newspaper headline while enjoying themselves there stated "Typhoon Phyllis hits Hong Kong."
The long Key West "vacation" came to an end and the family moved on to Point Mugu, Calif. At the end of that tour, he put in his request for orders back to Washington, with a side remark, "Get me Whidbey or get me out." Fortunately, the powers that be honored his request and it was back to Whidbey, being assigned to VAQ-138 then finishing his career as CMCVWP NAS Whidbey.
Throughout those years Maurice took an active role in each of the duty stations, both with the military family and volunteering in the local community. Key West was coaching a mixed baseball team that daughter, Sandy, played on the base in Navy housing. Each of the boys was in three different age groups on the city leagues. There were many hours sitting on bleachers and driving from field to field for practices and games both in Key West and at Point Mugu, where he continued coaching for each of his kids. There he also coached the youth bowling league that met on Saturday mornings.
While in Key West, scouting was a large part of life. Maurice was the Cub Master of Pack 395, conducting the meetings of very active young boys dressed up in the theme of the month. He was Webelos leader and even took the older boys by boat to another island for a weekend of camping. He was also on the training team for adult leaders. He enjoyed designing and painting projects, games and props for the monthly meeting.
During this same time, he kept active with the squadrons and could be found turning a quarter of a hanger into a winter wonderland complete with paper maché snowbanks and trees with stars hanging from the overhead or, in another season, a dance floor complete with music and darkened dining area atmosphere. He had a creative way of getting people to participate without them realizing how they got hooked. He was an amazing leader and organizer, not only at work but at play.
Arriving back at Whidbey, Maurice continued selflessly volunteering his time as a member of the parish council at St. Joseph Cupertino at the NASWI chapel, attending many barracks dinners. He was instrumental in getting the Enlisted Air Crew Wings for the Chapel: St. Augustine High School Youth Group, the YMCA, Catholic Community Services and the Knights of Columbus.
His most dedicated contribution of his time and talents was to the Knights of Columbus, joining in 1985. He advanced through the ranks, serving a year, 1996-1997 as Grand Knight. He worked diligently to support the fundraising projects, among them calling bingo, that supported seminarians through the Pennies for Heaven program and the Pregnancy Care Center; bagging and distributing potatoes for Help House and many others. He also served on the scholarship committee for graduating seniors several years.
He contributed 36 Years of Continuous Service to John E. O'Brien Council 3361 and 26 Years of Continuous Service to Whidbey-Fidalgo Assembly 2276.
He is honored on the lists of men who served as Past Grand Knights Past Faithful Navigators. He was recognized by the Assembly for his unselfish and devoted service during 1997-1998.
After retiring he rested, but only for a few months. He joined a neighbor, painting houses for a while. Then he started a new career teaching the behind-the-wheel portion of drivers ed at Oak Harbor High School. That is a whole story all its own! He eventually became co-owner of Defensive Driving School but still did the behind-the-wheel for 18 years.
Being around water throughout his tours of duty, he was able to enjoy his favorite pastime of fishing whether in the saltwater of Key West, San Francisco Bay or locally. His favorite freshwater fishing was at Curlew Lake near Republic in Eastern Washington. That was a four-generation pastime for many summers.
He enjoyed teaching his boys to play tennis. He and the boys spent hours on the golf course. He spent many hours doing woodworking projects. His favorite times were when the grandkids came and he was able to share his hobby with them.
He was a man of his word, honest and generous, always helping others. He was a man of integrity, gentle, patient and kind, considerate and compassionate. He made people feel at ease, always had a bright smile, a great laugh and gave big hugs.
He is survived by his wife of 61 years, Phyllis; son James (Diane); granddaughter Stefanie; and great grandson James David; grandson Matt (Alyssa); and great-grandchildren Kyleigh and Patrick; son Keith; daughter Sandy (Curt); granddaughter Heather (Kyle); great-grandchildren Connor, Bennett, Tanner, and Hanna; grandson Brandon and fiancé Becky; son Mike (Becky); granddaughters Heather and Holly; great-grandchildren Alex, Ofelia, Grayson and Camden; brother Lewis (Liz); sister, Dawn (Gary); and all their children and grandchildren. He was preceded in death by his mother and stepfather, Phyllis and James Tilton, father Edgar Lund, and Thomas "TJ" Lund, his grandson.
Words for Dad one Father's Day:
Our Dad
The Leader of the Pack
The Strength and Soul of the Family
The Wind Beneath Our Wings
The Teacher of Life's Lessons
And the Most Wonderful Dad and
Husband in the world.
We Will Love You Always
Jim, Keith, Sandy, Mike, and Mom
End of Watch:
July 31st, 2021 – 1838 hours
RIP Pop
We have the con!
The Lund family suggests memorials in Maurice's name to the National Parkinson's Foundation, the Alzheimer's Association, the American Cancer Society or to a charity of your choice.
A memorial mass was held at St. Augustine Catholic Church Aug. 18 with Rev. Paul Pluth, J.CL. presiding. A graveside service followed with Rite of Committal at Maple Leaf Cemetery and a reception was held at The Knights of Columbus Hall on Goldie Road.
Arrangements were entrusted to Wallin-Stucky Funeral Home, Oak Harbor, Wash.