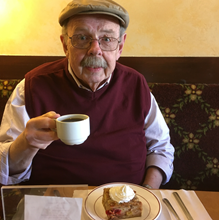 Michael William Gladwell
January 8, 1943 — January 28, 2022
Michael William Gladwell, age 79, of Clinton, passed away at Ocean Breeze AFH in Mukilteo Friday, Jan. 28, 2022, following a brief illness.

Mr. Gladwell was born in Fort Hancock, N.J., Jan. 8, 1943, to Michael Woodrow and Edith (Karlosky) Gladwell. He graduated from Monterey Union High School in 1961, received his Associate of Arts Degree from Monterey Peninsula College in 1964 and received his Bachelor of Science in 1968. He also attended San Diego State University. He received his teaching Credential in 1982. On July 12, 1986, he married Velma Gladwell. He was preceded in death by his wife, Velma in February, 2015

The couple moved to Clinton in 2005, where he enjoyed watching baseball, reading, cars and guitars. He was a member of the Seattle Section of the Mercedes Club. He loved being a teacher and the kids he taught. He also taught weight watchers for many years and was a life member.

Michael is survived by his sister, Sharon Ainsworth (Roy) of Rochester, Wash.; his three step-daughters, Cynthia Ramirez of Clearwater, Fla., Debora Ewing of Auburn, Calif., and Angela Ramirez of Clinton; four grandchildren, Billy Guzman of Marysville Wash., Angela Higgins of Las Vegas, Nev., Rachel Higgins of Salt Lake City, Utah and Ryan Ewing of Auburn, Calif.;  and four great-grandchildren.

A Memorial Service will be held at  1 p.m. Friday, Feb. 18 at Trinity Lutheran Church, 18431 State Route 525, Freeland. Memorial donations may be made to the American Cancer Society, 5601 6th Ave S, Ste 491, Seattle, WA 98108.