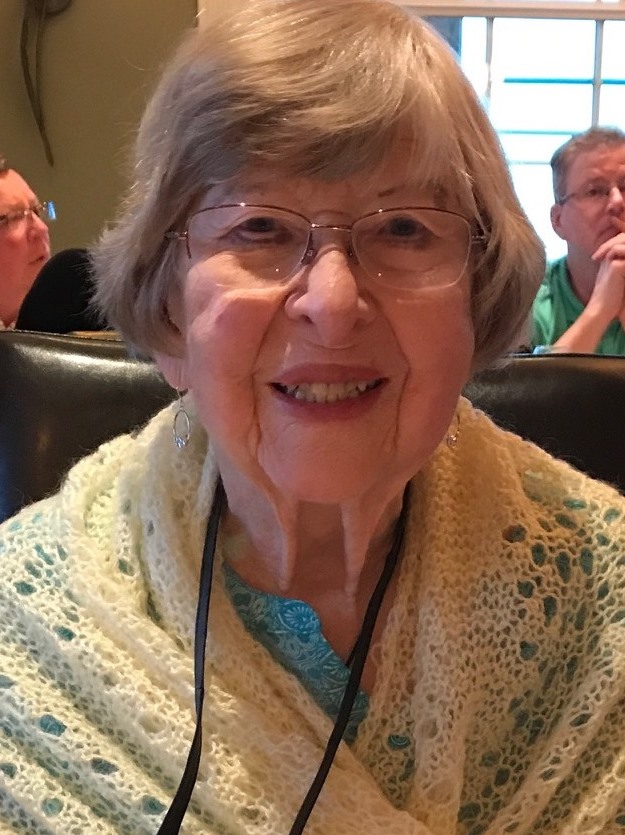 Muriel Richardson
July 26, 1927 — November 5, 2019
Muriel Joy Gray Richardson was born July 26, 1927, in White Salmon, Wash., in what is now Gardner Funeral Home. It was the same year, she was fond of saying, as the creation of Mickey Mouse and also of Charles Lindbergh's historic flight across the Atlantic. She died of renal failure on Nov. 5, 2019, in Coupeville, Wash. She was 92.
Muriel, who used the nickname "Pinkie," grew up in White Salmon and in Salem, Ore., the only daughter of Lelia May Hinshaw Gray and Robert Dale Gray. Due to the early death of her father and her mother's poor health, she and her brother, Bob, often had to fend for themselves as children, or seek help from their numerous aunts and uncles in White Salmon. Muriel graduated from Columbia High School in White Salmon in 1944 at age 16. She remembered spending time atop a building in White Salmon as a lookout during the war years, watching for Japanese planes which might be targeting the Hood River Bridge.
Muriel worked in a dress shop and at a bank to put herself through college. She attended Oregon State College (now OSU), earning a degree in Pharmacy. It was there she met her husband-to-be, Jim Richardson. They married shortly after graduation in 1950, just prior to his being drafted to serve in Korea. Their marriage lasted 65 years.
Newly pregnant and with her husband in Korea, Muriel returned to White Salmon to care for her mother. The couple's first daughter, Suzanne, was born while Jim was in Korea. Two more daughters, Kathryn and Brit, were born after his return.
Muriel followed her husband as he was transferred to a variety of locations by his employer, the Bureau of Land Management. They made homes in Salem, Eugene, and Roseburg, Ore., in Anchorage, Alaska, and in Falls Church, Va. In each new location, Muriel continued her career as a board-certified pharmacist, all the while managing a household and raising the couple's three daughters.
One of these moves – the family's arrival in Anchorage – was a story told for many years, as it happened just hours before the 9.2 earthquake that struck Alaska on March 27, 1964. Another favorite Alaskan story was the family's big win in the 1967 Nenana Ice Classic – entrants to this lottery guess the date and time to the minute of the ice break-up on the Tanana River. Muriel's entry, based on her mother-in-law's birthday and the time of day of Katy's birth, won the family $7,000, providing for a memorable trip to Europe.
Muriel was an avid reader, puzzle-doer, and gardener. She loved creating showpiece hanging baskets and flower gardens at the cabin she and Jim had on the Kenai River in Alaska. The cabin was also the launch point for another favorite activity, salmon fishing, and both Jim and Muriel kept their freezer stocked with sockeye, silvers, and kings. Muriel embraced technology – she learned to use first a desktop computer, then a laptop, then an iPad as each was invented, and her grandchildren were known to brag about their 92-year-old grandma's iPhone prowess. She was an active member in PEO, a leader in and supporter of Camp Fire Alaska for many years, a member of various book clubs, of the First Congregational Church of Anchorage, and a proud volunteer with the Sexy Senior Dumpster Cleaners, one of the many activities she and Jim took part in as members of the Cooper Landing Seniors. Another notable accomplishment was her ability to nourish lasting friendships – at the time of her death, she was still in touch with friends from her college days as well as friends from each of the locations the family had lived.
When Muriel was 88 and Jim 87, they relocated from Alaska, their home for nearly 50 years, to an assisted living facility in Oak Harbor, Wash., close to Muriel's beloved niece, Deb, and a bit closer to her daughters. Though Jim died unexpectedly three weeks after their move, Muriel grew to love Whidbey Island, and the chance to be close to family.
She is survived by her daughters, Kathryn McKinney, (Bill), Trout Lake, Wash., and Brit Ritchey, Eggleston, Va.; niece, Deborah O'Brien (Bill), Coupeville, Wash.; grandchildren Ben McKinney (Giz), Bellingham, Wash., Molly McKinney Holcomb (Geoff), Bellingham, Wash., and Cara Curtis (Scott Schnur), Atlanta, Ga.; as well as one great grandson, James Holcomb. She had been eagerly anticipating the birth of her second great grandson in December. She was predeceased by her husband, James Hollins Richardson, and her oldest daughter, Suzanne Richardson Curtis, as well as her brother, Robert Dale Gray.
There will be a family celebration of life in Coupeville in June 2020, followed by another in Cooper Landing, Alaska. Interment will be in the Cooper Landing Cemetery, next to her husband Jim. In lieu of flowers, contributions in her memory can be made to Camp Fire Alaska at www.campfireak.org, or Camp Fire Alaska, 161 Klevin Street #100, Anchorage, AK 99508.