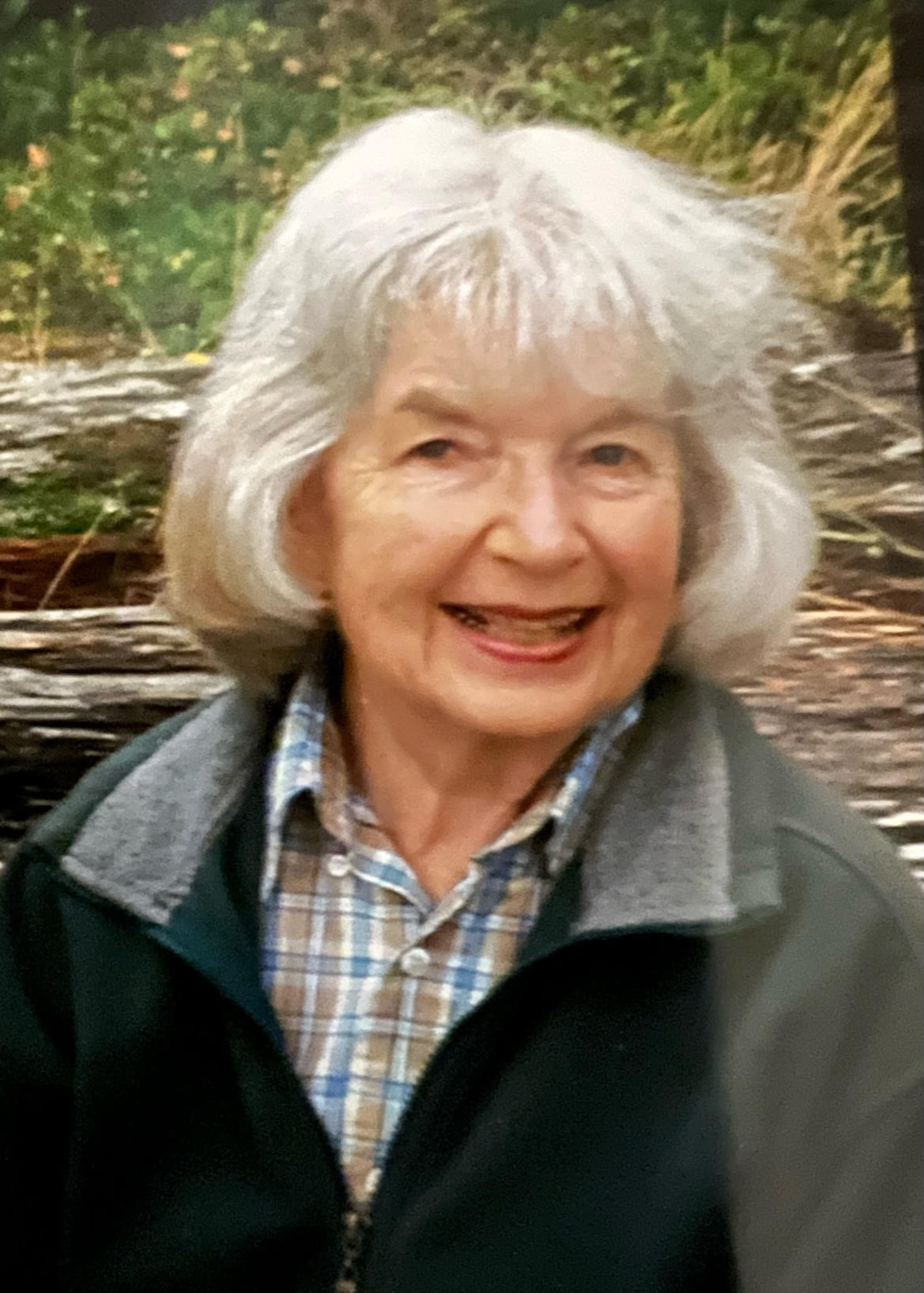 Nancy Clare Mason Paris
April 10, 1928 — May 1, 2022
Nancy Clare Mason Paris died May 1, 2022, at her Coupeville home with her beloved family. She was born April 10, 1928, in Portland, Ore., to parents, Arthur and Donna Clare Clancy Mason.
Nancy was a graduate of Mount Vernon High School in 1945, her class's high school years exactly paralleling World War II. As a result, her classmates developed a special bond working together on wartime projects, undergoing the restrictions of rationing of food, gas and shoes. They met regularly for class reunions in the ensuing years, gatherings which still go on, highlighted by their 76th reunion in 2021.
Nancy graduated from Washington State College (now University) in 1949, majoring in English and Journalism, a member of Kappa Alpha Theta sorority. A year later she married Marshall Paris, a fellow WSC graduate, managing the insurance office when he was recalled into the Army during the Korean Conflict. Over the next several years, the couple became parents to five children, Mary Clare, Carolyn (Pixie), George, Peter and Patrick.
When all the children were in school, Nancy became more active in community projects, including working to establish the historical museum alongside the river in Bothell, a town beautification group which involved tree planting, renovation of the town's historic cemetery and identification signing for historic buildings. In 1970 the Paris family moved to Whidbey Island, where Nancy became a charter member of the Historical Society, helping to renovate the Jacob Anthes bunkhouse to become the new museum. She served on the vestry of St. Augustine's Episcopal Church and wrote two books of family history. She interned with Women's Programs at the University of Washington and went on to publicize the UW's adult education classes in print, radio, flyers and brochures. Later she was offered a position with Extended Services of Island County, the first person hired after director Jay Moser, for the organization which became Senior Services. Still later, she served as office manager of Salmonberry Studio in Ledgewood.
An only child herself, Nancy was delighted to have a large family, often taking the children along on civic projects and introducing them to a variety of experiences on summer trips.
She is survived by four of her children: Carolyn (Pixie) Paris Rowe, New Zealand; George, Langley; Peter, Central Washington; Patrick, Los Angeles. She is also survived by nine grandchildren and 20 great-grandchildren. Her eldest daughter, Mary Clare, preceded her in death in August 2019.
In lieu of flowers, Nancy requested that friends give a book to a child, write a letter to an old friend or make a gift to St. Augustine's Episcopal Church for Community Outreach. A Celebration of Life is planned for later this summer at St. Augustine's, 5217 Honeymoon Bay Road, PO Box 11, Freeland, WA 98249. Additional information available by visiting www.whidbeymemorial.com.