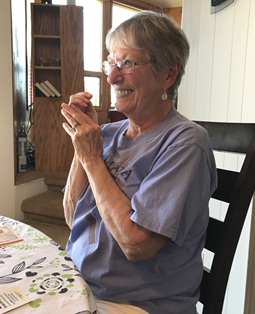 Patricia L Kohlmann
July 12, 1943 — April 10, 2020
The good Lord decided to add another voice to the heavenly choir, so Pat Kohlmann was brought to join them April 10, 2020. Pat always enjoyed singing and was ready for the opportunity.
Pat Loveland was born July 1943 in Livingston, N.J. She was raised primarily in Whippany, N.J., and attended Hanover Park High School. Pat went on to get an AA degree at Cazenovia college. A neighbor, classmate and friend during many of those years was John Kohlmann. Romance blossomed during their college years. Pat and John married in June 1965, two days after John was commissioned in the U.S. Navy. Life in the Navy involved living in eight different states and three foreign countries. Along the way, daughter Cynthia Lee was born in Athens, Greece and son Ryan James was born in Ann Arbor, Mich. Pat was a devoted, loving mother who helped her children along the path to successful careers and lives.
During 18 of the last 20 years Pat lived on Whidbey Island, primarily in Coupeville. There she was actively involved with the Coupeville United Methodist Church and was happy to be a part of the church family. Along with her husband, John, she was also active in the Coupeville Lions Club and was glad when the lady Lions began bowling weekly. Pat's hobbies also included sewing, knitting and needlepoint. She enjoyed walking, especially with the dogs that became family members over the years, including Shadow, Rusty and Coco.
Pat was preceded in death by her parents, Janet and Jim Loveland.
Pat is survived by her husband, John, of Oak Harbor Wash., daughter, Cynthia Kohlmann and her husband, Eric Markman, of Marlborough as well as his daughters Cahaley and Elizabeth Markman, son Ryan Kohlmann of Sammamish Wash., his wife, Annett Kohlmann, and two sons, Larson and A.J., as well as brother Charlie Loveland of Fountain Inn, S.C. and his daughters, Samantha Parrao of Hackettstown N.J., and Claire O'Day of Florham Park, N.J., and their families. Pat is also survived by her aunt, Naomi Loveland, of Manchester N.J., and sister-in-law, Anita Stanley, of Venice Fla., and her sons, Herb Hoffman of Duluth, Ga., and Harry Hoffman of Long Beach, Calif., as well as their families.
Pat's love for life and the people around her was manifested in her beautiful smile and gentle ways. An empty place has emerged on earth and a new radiant light has joined the Lord.
In lieu of flowers, donations may be made to Homeward Pet in Woodinville, Wash. A memorial service will be held at a later date at the Coupeville United Methodist Church. Family and friends are encouraged to share memories and condolences at www.whidbeymemorial.com.