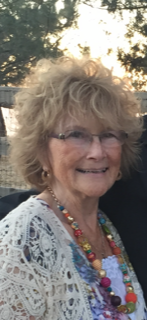 Peggy Ann Hennessey
— February 6, 2022
Peggy Ann (Gillis) Hennessey, 84, of Coupeville, Wash., a treasured wife, mother, aunt, nana, great-grandmother and friend, passed away peacefully at home Feb. 6, 2022, surrounded by family.
Peggy was born in Quincy, Mass., and graduated from High School in 1955 in Hanover, Mass. She then moved to El Toro Marine Base in California to join her father, Master Sgt. John Gillis. Peggy worked at several different jobs at the base and began to model and compete in beauty pageants. She was crowned Miss Orange County, was third runner-up for Miss California in Santa Cruz, was a finalist in Miss TV 1956, and was accepted to participate in the Miss America Pageant. In 1957, Peggy married John S. Petersen and moved to Helmville, Mon., to help her father-in-law work his sheep ranch. In 1960, Peggy gave birth to her son, while John attended Montana State University in Bozeman, Mont. Shortly thereafter, they moved to St. Louis, Mo., so he could complete dental school, and Peggy gave birth to her two daughters. In 1966, they moved to Whitefish, Mont., where John began his dentistry practice. Peggy had many careers, including being personnel director at Big Mountain Ski Resort, and an insurance salesperson for many years, restaurant manager, and teaching English to non-Englis-speaking children.
In 1980, Peggy married Ralph N. Hennessey, and lived in Whitefish and Kalispell, Mont. She loved the outdoors, gardening, and family get-togethers. In 2007, Peggy and Ralph moved to Coupeville, Wash. (Whidbey Island). Peggy was a devoted church member of Saint Mary's Catholic Church in Coupeville, where she participated in church outreach programs Works of Mercy and Women of Saint Mary's Catholic Church. Peggy was the former president, as well as a 15-year member, of the Coupeville Garden Club, which also included volunteering for the gardening-after-school-program for elementary children. Many will have fond memories of seeing Peggy with the Garden Club, adorning the town of Coupeville with beautiful potted plants, as well as placing Christmas wreaths at St. Mary's Church.
Peggy was a great artist, who thoroughly enjoyed sketching and painting. She also enjoyed reading, crabbing, pedaling her player-piano, her Irish heritage and listening to Irish and bagpipe music, the Coupeville Shifty Sailors singing group, beach walks looking for sea glass and agates. She was an excellent homemaker and cook and enjoyed family visits and cooking her "famous chicken tacos." Peggy loved visiting with and serving others who were ill, or less fortunate, often providing those in need with generous gifts of kindness, love, and support. She was very proud of her three children and enjoyed their visits immensely. Peggy's happy personality, infectious laugh, adventurous spirit and generous and loving heart, are among the things that will truly be missed.
Peggy's family would like to send a special "Thank You" to Dr. C.J. Kuan, whose selflessness, compassion, and unwavering commitment was greatly appreciated during her extended days of care.
Peggy was preceded in death by parents John F. Gillis and Florence (Neal) Severin; brother Jack Gillis; half-brothers Dick Severin and Tommy Gillis; and stepson Shawn Hennessey. Peggy is survived by her husband, Ralph N. Hennessey, of Coupeville, and his daughters Chris and Heidi of Montana; son John (Sandra) Petersen of Coupeville; daughters Christine (Chip) Von Heeder of Kalispell, Mont.; and JoAnna (Mark) Armendariz of Santa Clarita, Calif.; grandchildren Iain (Yuki), Jordan (Kaitlin), Ivey (Parhum), Aubrey, Aleah, Zane, Chans, and Tristin; as well as great-grandchildren Phoenix, Iris, Indigo, Isla and Islay.
There will be a Celebration of Life at Peggy's "Happy Place" at a beach in Coupeville this summer, which will be announced at a later time. Family and friends will be notified.