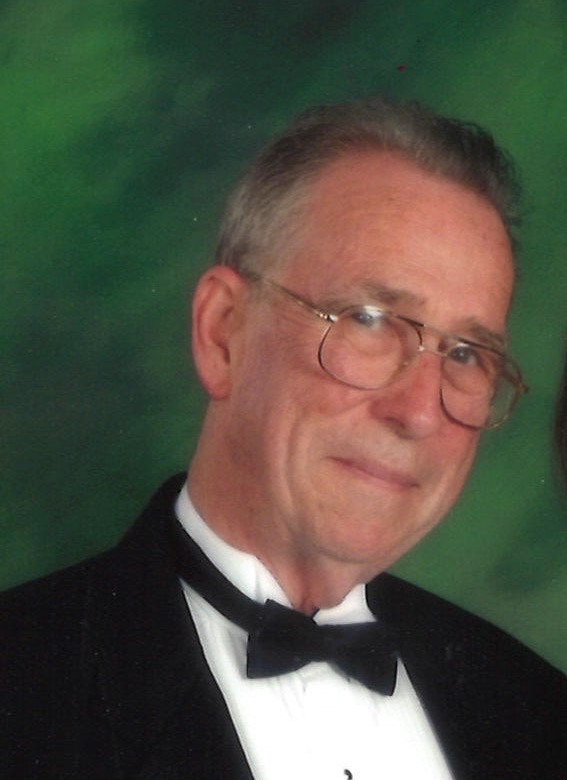 Porter Newell Baldridge
August 26, 1943 — May 27, 2021
Porter Newell Baldridge died May 27, 2021, and we assume he is rather ticked off about it.
He was born to Porter, Jr., and Bernice Baldridge in 1943. They enjoyed being parents so much that they had two more children, Randy and Candy.
While growing up in Wisconsin's northwoods, Porter amused himself annoying his mother by taking things apart and putting them back together to see how they worked; learning how to be a good marksman hunting wild animals for the family's supper; and rampaging through the woods and having acorn fights with his brother and cousins.
Porter attended Spooner High School, where he caused mayhem on football fields and other events while being the school photographer. In 1961, the principal handed him a diploma and sent him on his merry way.
Port joined the Navy in 1962. While stationed in Virginia, the daring young man went on a blind date and met Diane Belmont. They tied the knot Dec. 31, 1963, and were soon blessed with a darling red-headed little girl named Vicki Leigh, whom Porter enjoyed teaching how to take carburetors apart and how to cause mischief while learning about life.
With lonely and long days of Porter being on Navy watches, he and Diane grew apart and divorced in 1968. Porter picked himself up, dusted himself off, and started on a new adventure as an Electronics Mechanic on aerial target drones in the Civil Service at Point Mugu. Throughout advancements in the Civil Service, he continued to enjoy blowing things up with missiles and other fancy stuff.
Porter met Pat, the love of his life, (ironically) at a New Year's Eve party in 1968. They had so much fun together, they decided to get married July 18, 1970. Porter's work took them to tropical and exciting places like Kauai, Hawaii, where Porter explored his theatrical side in the local theater group. This is also where their son, Matthew, was born. Their next move was to NAS Miramar in California, where son Andrew made his appearance. While Pat ran an in-home daycare there, Porter would let little boys (that were not supposed to get dirty) play in the garage. Their next move was to NAS Cubi Point, Subic Bay, Philippines, for five years where, fittingly, Porter and the family, left slightly before fireworks started with the ouster of Ferdinand Marcos. Porter's last billet was in beautiful Oak Harbor, Wash., where Porter decided to retire from the Civil Service in 1996.
Retirement didn't slow Porter down. He projected himself into other careers. Team Corporation is where he worked in a "vibrator factory." At Pantec Mini Storage, he wrangled rental trucks and found hidden treasures in abandoned storage units.
The job he found the most enjoyment out of was working with Boy Scouts. He was the Scoutmaster of Troop 98 in Oak Harbor for 15 years, where he helped 24 young men (including both Matt and Andy) attain the rank of Eagle Scout. He operated the rifle range at the Boy Scout Camp Black Mountain in Maple Falls and Camp Fire Mountain in Mount Vernon. "Colonel Rimfire," as he was known, ran a tight ship at the range, helping hundreds of scouts earn their rifle and/or shotgun shooting badges. One of Matt's favorite memories of Scout Camp is when Porter arranged a pizza delivery to the camp via a Navy SAR helicopter.
Porter was always fascinated with anything that boomed, banged, or sparked. His favorite hobby was gunsmithing. He spent many hours helping friends and acquaintances learn about their "boom sticks," as well as repairing guns and finding unusual firearms along the way.
In 1999 Port and Pat took a cruise to the Mexican Riviera. During this adventure, they discovered a love of cruising and took several cruises to Hawaii, Mexico, Panama Canal, and Alaska. While on the ships, Porter, being the old sea dog he was, would be mesmerized for hours by the waves while sitting at the stern of the cruise ship.
Always a mechanic, Porter loved cars. In the 1960s he rampaged around southern California in a customized 1956 104 Austin Healey with a small block Ford motor. He helped Matt keep an old VW Beatle running, and enjoyed turning wrenches with Andy, and seeing how fast his shiny red Dodge Stealth could go.
For about 30 years, Porter was active with both the Oak Harbor and Whidbey Island Lions clubs. For several years, he was the grinch that managed the Lions' Christmas tree lot. He helped the Lions with projects such as cleaning up local parks, putting up flags around town and selling poppies and tulips.
Port's 10 grandchildren and two great-grandchildren were the apples of their proud Papa's eyes. Porter would never bat an eye at playing tea party with Sylvia or going shopping with Kari. He loved blowing up things at the shooting range with Paul, Simon, and Darcy. He had good grandpa talks with Brendan and Callum, and loved taking Justin, Colette, Calista, Lachlan, and Leiden to Fort Nugent Park.
Porter left us May 27, 2021, after a brief illness. Even in death, Porter is up for an adventure. His ashes will be scattered along the Salish Sea (aka Puget Sound), where the orcas and sea lions swim and play. If you would like to honor this memorable soul, remembrances may be made to the Mount Baker Council of the Boy Scouts of America, 1715 100th Place S.E., Suite B, Everett, WA 98208.
Arrangements are entrusted to Wallin-Stucky Funeral Home, Oak harbor. Please visit Port's page in our Book of Memories online at www.wallinfuneralhome.com to share memories and leave condolences.