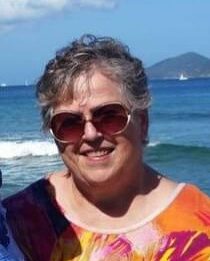 Priscilla "Percy" M. Valentine
February 8, 1940 — September 26, 2021
Percy lost her long battle with cancer at the age of 81 Sunday, Sept. 26, 2021 at her home in Oak Harbor, where she lived with her husband, Greg.
Percy was born Feb. 8, 1940, in San Jose, Calif., to Louis and Lucy Goyna. She was raised with her two sisters, Judy and Peggy, in Santa Clara, Calif. She met the love of her life, Greg Valentine, in 1971, marrying him in 1975 in Dublin, Calif. She followed Greg's military career to Oak Harbor, where she resided with her children: Lisa, Mike, and David. Percy had a long career at the Skagit Valley College registrar's office. After retirement, she enjoyed traveling to their property in Mexico each winter. Summers were spent visiting with her children, grandchildren, and great-grandchildren.
Percy was a very social person, making conversation with anyone. She loved going to yard sales, antique stores, shopping, and telling stories about her adventures. She and Greg were active members of the local VFW. Percy loved the many pets she had throughout their life, especially her cats.
Percy is survived by her loving husband, Greg Valentine; her daughter, Lisa Hawthorne; her sons, Michael and David Hawthorne; her stepdaughter, Sherry (Robin) Renner; four grandchildren and their spouses; nine great-grandchildren; her sisters, Judy Farrish and Peggy Horillo; and her longtime best friend, Kathy Blyth.
The family wishes to express a special thank you to Dr. Scheidt, Island Hospital Cancer Center, and the amazing hospice team.
Services will be held at a later date; in lieu of flowers, please make donations in Percy's name to Whidbey Animals' Improvement Foundation (WAIF) at waifanimals.org.