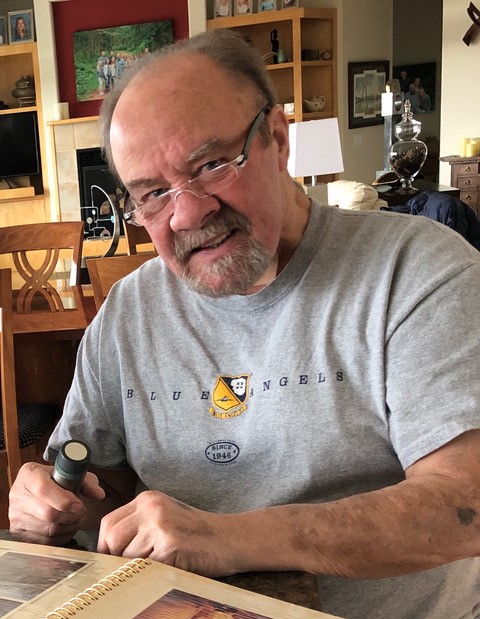 Robert G. "Jack" McFadyen
June 25, 1944 — August 30, 2020
Jack loved his family, fishing, and Husky football. He absolutely adored his immediate family, but that family circle expanded to others he met along the way. As kids from the neighborhood or classmates/teammates/friends of Jason and Aleshia found out – if Jack got to know you, he considered you part of his extended family and one of his kids. It is hoped the unconditional love he showed these "kids" will be passed on for generations. He was extremely generous and fiercely protective of those he loved.
He loved his time in boats and on the water. For the last 27 years, his absolute favorite place to be was fishing in Alaska on the Kenai Peninsula with Jason and friends. During those trips, his guide, Mike, became one of his closest friends. He also enjoyed fishing and crabbing with his friends in Whidbey waters.
The Hawks and Huskies were Jack's favorite football teams. He was a Huskies season ticket holder for more than 15 years. He was a true "DAWG" fan. If the Dawgs were playing, he was either in the stadium with Jason or Jake or glued to the TV texting them throughout the game. He loved watching Jason and Aleshia play all sports while in high school and that love continued with watching his grandchildren play sports.
In 1992, Jack was diagnosed with Laryngeal cancer which required the removal of his larynx and the use of a "voice box" to speak. After beating cancer, he insisted on going to local schools and showing them firsthand the dangers of smoking/tobacco use. He agreed to be in an educational video on the dangers of smoking that was shown throughout the state. People continued to tell him how his influence caused them to quit smoking.
If you lived in Coupeville within the last 50 years, you probably knew Jack and have a story that makes you smile. Whether it was a quick hello at the grocery store, a pat on the back after a game, or a quick joke sent by email or text message, he connected with the people around him in a way that was one-of-a-kind. He had a way to capture you with a mischievous twinkle in his eye and an infectious smile.
Jack was a proud 30-year veteran of the U.S. Navy. He spent 12 and-a-half years on active duty and 17 and-a-half in the Naval Reserves. He retired as a MCPO (E9). He was a true lover of all aircraft and loved working on them and being around them. Jack was a Vietnam veteran. During his military career, Jack was awarded numerous medals and decorations.
They include the Air Medal (both Individual [1] and Strike Flight Awards [3]); the Navy and Marine Corps Commendation; the Navy Unit Commendation (3); the Navy Meritorius Unit Commendation; the U.S.C.G. Meritorius Commendation (2 awards); and the Navy "E" Ribbon. Additionally, he wore the Navy Good Conduct Award (5 Awards) and other U.S. Navy, U.S.M.C., and U.S. Coast Guard medals and commendations, including several citations and medals from the Republic of Vietnam.
During his Naval career, he spent two tours on the USS Oriskany, a tour in Atsugi, Japan with VQ-1 and duty on the USS Nimitz. He was fortunate to spend all his Naval Reserve time at NAS Whidbey Island.
He was a native of North Carolina, attending Waughtown Elementary and Gray High School in Winston-Salem, N.C. He graduated from high school in Russellville, Ky., where he met his wife of 52 years. He continued until his death to maintain a friendship with those friends from elementary and high schools.
Those left to remember happy times and tell stories include his brother "Pat" and his family in Winston-Salem, N.C., his wife, Carmen, children Aleshia (Eric) Mitten, Jason, Narisa Dudonsky and the smartest and most beautiful grandchildren ever born, Jake and Ava Mitten, Pearl and Kate McFadyen and Emmarose Fasel.
There will not be a public gathering at this time. If you would like to remember Jack, with a donation to honor children please consider the Coupeville Boys & Girls Club Building fund, 8223 Broadway Ste 100, Everett, WA 98203 or the Make a Wish Foundation, online at wish.org, or 1702 E. Highland Ave, Suite 400 Phoenix, AZ 85016.
Arrangements are entrusted to Wallin Funeral Home. Oak Harbor, WA. Please visit Jack's page in our Book of Memories online at www.wallinfuneralhome.com to share memories and leave condolences.