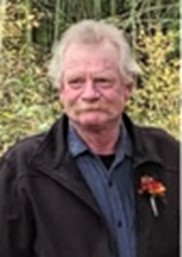 Rusty (Oliver) L. Elam Jr.
March 18, 1964 — January 12, 2022
Oliver Leroy Elam Jr., known by his loved ones as Rusty, was born in Oroville, Calif., March 18, 1964. He was preceded by his mother, Virginia Walshaw, and his father, Oliver Elam Sr. He moved to Oak Harbor, Wash., and lived there for many years before his passing Jan. 12, 2022. Rusty grew up in Feather Falls, Calif., racing dirt bikes. He also worked for his father, Oliver Sr., as a logger and later worked at a recycle center at the Navy base on Whidbey Island.
Rusty met Virginia Welch, now Potterf, at the age of 24 and they married a few years later in Reno, Nev. They had two children together, James Oliver Elam and Cynthia June Elam (Valentine). Though they were no longer married, Rusty and Virginia stayed friends. At the time of his passing, Rusty had two grandchildren and one on the way. His grandson, Silas Jameson Elam, from his son and daughter-in-law, James and Maddison, and his granddaughter, Whitley Mae Valentine, from his daughter and son-in-law, Cynthia, and Scott.
Rusty's memorial service will be held at Rocky Point Recreation Area Jan. 29, 2022, from 11 a.m. to 2 p.m. The address can be found at Rocky Point Recreation Area (navylifepnw.com).
Rusty was well known for his big rigs and mudding in his truck he called Big Red. His love for dirt bikes was passed down to his children when he built them a minibike and even more to his son, James, when they road their KLRs together on weekends. Rusty was a talented welder, whether he was building a minibike or welding horseshoes together to make a coat rack. He was an amazing mechanic, as he helped his son rebuild the engine for his first truck and repaired his daughter's rear axle when she jumped her first car off the road.
Rusty loved spending time his grandchildren. Whether it was rolling around in the grass with them or giving them tractor rides, he was always putting a smile on their sweet, little faces. We are grateful for the time he spent with us and hold these memories close to our hearts.
Rusty was a beloved father, grandfather, and friend. We will all miss his fun-loving nature. Family and friends are encouraged to share memories and condolences at www.whidbeymemorial.com.