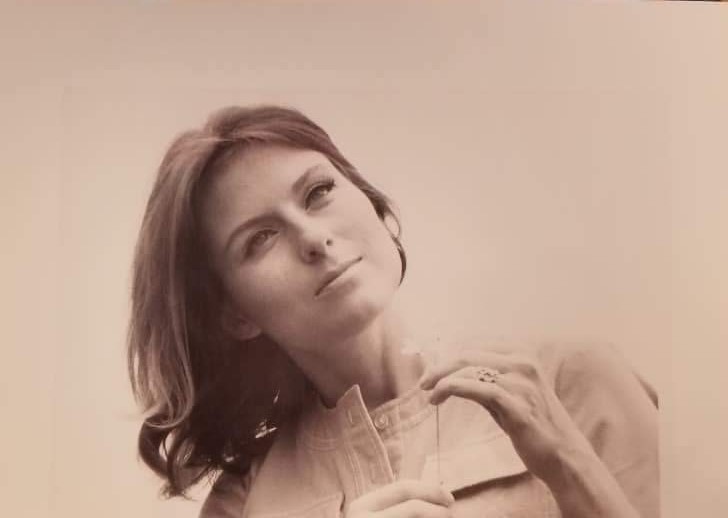 Shirley Blair McDaniel
April 6, 1941 — August 9, 2019
My lovely wife, Shirley Blair, was born April 6, 1941, in Tulsa, Okla. Her parents were John Pigler and Emma Blair. After her parents divorced, Shirley wisely decided to assume her mother's maiden name in the second grade!
She attended school in Tulsa throughout her young life and proudly graduated from Tulsa University with a BA in English and teaching in 1963. By that time she had two daughters, Valerie and Natalie, and was married to Paul Park. After an attempt at teaching (8thgraders, all of whom were taller than her 5 foot frame), she decided to venture into another field. She became a social worker and worked in both Tulsa and Oklahoma City in child placement. She continued this work until 1968.
In 1968 Shirley and Paul were divorced and she moved back to Tulsa. There I cautiously started calling her occasionally and going out to dinner with her. After a short while I fell in love with her and her daughters, and we were married Dec. 13, 1969, just a couple of weeks before I was to report to the Navy. She was a little dubious, having spent all of her life in Oklahoma. She should not have been!
We moved to Pensacola, Fla., where I attended Flight Surgeon School, then moved to El Toro, Calif., where I was assigned to the Marine Corps Air Station in Santa Ana. We loved our time there, but soon I received orders to Viet Nam. I left Shirley and the girls behind..three girls now, with the birth of our daughter, Tara, in March 1971, while I went initially to Okinawa. Shirley kept putting the girls' toys and other items in my ship-out luggage. I mistakenly thought I would not see them for a year. She knew better. After three weeks in Okinawa, I called her and suggested she get passports and tickets and move to Okinawa. She told me she already had passports and tickets in hand! She arrived in Okinawa where we secretly rented a house and put the older girls in a Japanese school. I went off to Viet Nam, and Shirley would fly to meet me whenever my ship would come for R & R. We met in Taiwan, Hong Kong, and the Philippines over the next year. (She was always wiser than me!)
We then had an incredible career, living on both coasts, in Spain for three years, Germany, and back to Japan for two years. We were fortunate enough to live in Hawaii for four years. Shirley began teaching English as a second language while we were in Japan, and continued to do so in Hawaii. We finally retired after a total of 32 years in the Navy in 1997, returning to Oak Harbor, were we had purchased a house when stationed here in 1986-88.
I was a Commanding Officer for many years in the Navy, having a total of five commands. Shirley was my most valuable asset in those jobs. She guided me, lent sanity to my somewhat insane tendencies, and perhaps most importantly provided guidance to many young Navy wives through those years. Without her hand on the rudder, I would never have been able to do my job in the Navy.
She was busy here in Oak Harbor, being a proud member of the American Association for University Women, Friends of the Library, and starting (at least) three book clubs and several lunch groups. She decided many years ago that our neighborhood needed a picnic every summer, so we could be a true community, and single-handedly set that process in motion. Our yearly picnics continue these many years later.
Shirley was the most gracious person I have ever known. Quiet, contemplative, wise, gentle, brilliant. I do not have all the adjectives, but she is the best person I have ever known. I was so proud to have been her friend and mate these 50 years.
In the end, she was hospitalized at the WhidbeyHealth Medical Center, where she had been an in-patient several times. Their care and compassion was absolutely outstanding. She moved from there to Careage House in Coupeville, where again the staff was incredible. They were caring, compassionate, professional, and dispensed love along with their other care. Shirley and I so appreciated both places; we should all be proud of those facilities and the people who work in them. She passed away Aug. 9, 2019. She is survived by her three daughters: Valerie (Tulsa), Natalie (Aiken, S.C.), and Tara (Missoula, Mont.). We have four grandchildren: Sasha, Fionna, Dakota, and Ian. Her brother, Blair Jackson, lives in Orlando. And, me, Bill McDaniel. She leaves behind so many family and friends who loved and appreciated her for the incredible person she always was.
Instead of flowers, I would like to establish a scholarship in Shirley Blair McDaniel's name through the AAUW, where for many years she worked as head of the Scholarship Committee. Donations can be made to AAUW – Whidbey Island P.O. Box 1332 Coupeville, WA. 98239, designated to the Shirley McDaniel Scholarship Fund.
A memorial service with reception will be held on Monday, Aug. 26, at 1 p.m. at Wallin Funeral Home.
Please Visit Shirley's page In our book of memories online at www.wallinfuneralhome.com