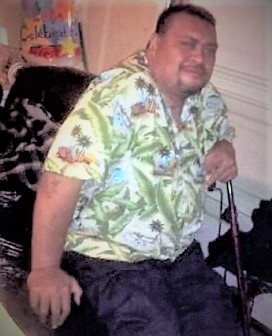 Sinapati Junior Tali
September 20, 1975 — June 24, 2020
Sinapati was named after our father, who passed away along with our mother in 1999 in Pago Pago, American Samoa. Sinapati liked to go by his middle name, Junior, and the only time he used his actual first name was in school and for his medical appointments.
Junior was an athletic person, as were my two older brothers, Peo and Bev. Junior had a life-changing accident when he was about 12 years old. He went with the village kids to swim at the waterfall next to our Aunt Snookie Walker's house in Pago Pago Village. He tumbled down the waterfall, breaking his hips and hitting his head, causing brain damage. Still this did not slow him down. During the 1980s Junior won eight gold medals in the Special Olympic Games that were held in American Samoa.
Junior was very intelligent. Our mother said he won first place at Samoan Bible School from first to eighth grade. His life was changed forever after his fall over the waterfall. He was still very athletic and loved games like billiards or pool, basketball, volleyball, ping pong, chess, video games as well as simple card games, Rummy being his favorite. He taught me play and it is instilled in me.
He was loved by everyone who knew him. He was an intelligent, loving, caring, generous, and humorous person. He showed his love for his family by always helping out, mowing the lawn, washing the dishes and many other chores.
As wonderful as he was, he could be very hard-headed at times and often would only listen to his two older brothers. In January of 2004, I came to live in America with Peo to help take care of Junior. That year he had hip replacement surgery. He recalled later that he could hear the doctors working on him, hammering something, so he was never eager to have the surgery on his other leg. Later that same year Peo's living situation changed and Junior and I went in separate directions. He went to live with our first cousin, Pisila Kupu Wily, and her kids. Our oldest brother, Peo, passed away and was buried in Spanaway, Wash., in 2013.
From then on Junior lived off and on between nursing homes and Api/Abby (our youngest brother) until he decided to move to Oak Harbor, Wash., to be closer to Api/Abby and myself, Linda, his younger sister.
Junior was a diabetic, had hypertension and started dialysis a few years back. By the time Junior and I moved to Tacoma, Junior had suffered from these ailments for a while. It didn't help matters that he was a heavy smoker, having started back in high school, and he liked to drink on and off. These two things did not help his health situation and it resulted in having a few heart attacks and strokes around 2014, which brought him to the point of needing the kidney dialysis.
Junior loved spending time with his family, especially all of his nephews and nieces from his two older brothers. They always said they were our kids too.
We were all so blessed that on June 20-21 we were able to have his "Going Home" celebration. All of us who are nearby gathered together to say goodbye. We laughed, we cried, sang songs and enjoyed tons good fellowship together. We are all so grateful for this time we shared with him. After the party, as Abby and I continued to take care of him, we noticed a rapid change in his body. June 23, our older brother, Bev, called for an update and we contacted all the family members, including all the nieces and nephews, so that Junior could bless each one of them.
June 24, 2020, our beloved Junior passed away quietly while I was on the phone and Abby was asleep in the chair next to his bed. We looked up and he had gone home to Jesus. We are so grateful to know that he's at home with Jesus and we will see him again one day when we join him.
Family and friends are encouraged to share memories and condolences at www.whidbeymemorial.com.